Gledelig og historisk begivenhet - de første vaksinene har landet i Singapore.
I dag landet Singapore Airlines med de første Covid19-vaksinene fra Pfizer-BioNTech på Changi flyplass i Singapore. Den første ladningen ble lastet om bord søndag i Brussel, Belgia. - Singapore Airlines er klare for transport av ytterligere vaksiner. Vi ønsker å bistå effektivt og trygt i arbeidet med å reversere utviklingen av Covid-19. I den første fasen av pandemien fløy vi blant annet åtte fullastede fly med verneutstyr til Skandinavia, sier Erwin Widjaja, daglig leder i Singapore Airlines Nordics. Singapore Airlines har i mange år vært sertifisert for å transportere flere typer medisinsk utstyr. For mer informasjon se pressemelding på engelsk under.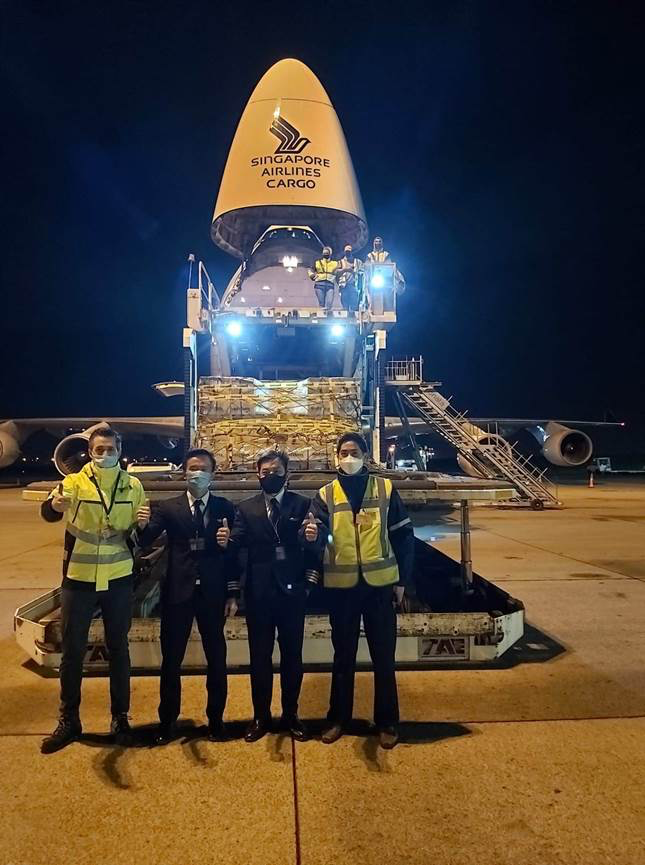 SINGAPORE AIRLINES DELIVERS FIRST SHIPMENT OF COVID-19 VACCINES TO SINGAPORE
21 December 2020 – Singapore Airlines (SIA) delivered the first shipment of Pfizer-BioNTech Covid-19 vaccines to Singapore earlier this evening on board one of its Boeing 747-400 freighters. This was also the first Pfizer-BioNTech vaccine shipment to be delivered to a country in Asia.
The vaccines were carried on board SQ7979, a scheduled freighter service from Brussels, Belgium, to Singapore. The flight departed on 20 December 2020 and arrived in Singapore on 21 December 2020 at approximately 1955hours.
The shipment was prioritised for loading into the aircraft in Brussels and was given similar precedence during unloading in Singapore. It was then transported to SATS's cold-chain facility, Coolport, for subsequent storage and ground transportation.
Prior to today's delivery flight, SIA conducted a successful shipment trial on 19 December 2020 on the same freighter flight route. Besides ensuring the smooth and safe delivery of the thermal shippers, also known as the cool boxes, used for the trial, the internal temperature of each box was actively tracked on an end-to-end basis. The sublimation rate of the dry ice in the cool boxes was also measured.
Mr Chin Yau Seng, Senior Vice President Cargo, SIA, said: "The delivery of this first batch of Covid-19 vaccines to Singapore is an important milestone in the fight against Covid-19, and we are honoured to be able to play a part in this. It also served to demonstrate SIA's and the Singapore air hub's readiness for the very important job of transporting and distributing Covid-19 vaccines internationally."
Media Backgrounder
Singapore Airlines (SIA) has made preparations to meet one of the largest and most important logistical challenges in recent history – the safe and effective distribution of these vaccines around the world.
Over the last few months, SIA has been actively engaging various stakeholders across the supply chain and in pharmaceutical export markets to ensure that it is well-positioned to transport the vaccines with speed and reliability.
An internal Covid-19 task force was set up in May 2020 to ensure readiness across all aspects of the Company's cargo operations, and manage the crucial task of safely carrying these time- and temperature-sensitive pharmaceutical shipments.
Leveraging our network connectivity
For the financial year ended March 2020, SIA Cargo carried about 22,000 tonnes of pharmaceutical shipments across its network. Singapore's geographical location, coupled with SIA's extensive network connectivity and the strong pharmaceutical handling capabilities at Singapore Changi Airport, positions it well as a key transit hub for the transportation and distribution of pharmaceuticals. It plays a key part in the air transportation of pharmaceuticals, particularly biologic shipments, from Europe and India to South East Asia, Australia and New Zealand.
In order to strengthen its pharmaceutical transport product, SIA has been actively expanding its THRUCOOL[1] quality corridor network, with the latest additions to the network being Brisbane and Melbourne in September this year. THRUCOOL provides the assurance of safe and reliable transportation of time-sensitive and temperature-controlled pharmaceutical cargo on key pharmaceutical trade lanes.
Prioritising airfreight capacity for vaccine movements
SIA will make available cargo space on its flights and accord uplift priority to Covid-19 vaccine shipments across the key vaccine trade lanes. This means readying the Airline's seven Boeing 747-400 freighters, as well as the Airline's passenger aircraft fleet which will be deployed on cargo operations to increase the capacity for vaccine transportation where needed.
Building robust capabilities to ensure product integrity
Thermal protection systems are required to effectively meet the varying temperature requirements of the various vaccines that are currently in the pipeline. SIA has signed Master Leasing Agreements[2] with key cold chain container providers such as CSafe, DoKaSch, Envirotainer, Skycell and Va-Q-Tec, to ensure that the Airline has access to sufficient temperature-controlled containers to handle the large volumes of vaccines that need to be transported by air.
A range of active tracking devices has also been certified for use on board the Airline's aircraft. This provides the vaccine producers and their logistics service providers with complete end-to-end visibility and tracking of the shipments (particularly temperature readings) throughout the journey, as well as the added assurance that the vaccines are handled with utmost importance and care. In addition to the active tracking of the shipments through these devices, SIA has a 24x7 cargo hub operations team that will monitor the vaccine shipments through its digital operations control tower.
The Airline was re-certified under IATA's CEIV Pharma programme earlier this year in January 2020, and achieved Envirotainer's Qualified Envirotainer Provider Training and Quality Program (QEP) accreditation in November 2020. These accreditations further affirm SIA's stringent handling processes for pharmaceutical cargo — in line with the highest industry standards.
Working with partners to ensure readiness as key pharmaceutical hub
SIA has been working closely with its ground handling partner at Changi Airport, SATS, to ensure that the Singapore air hub is ready to handle and store large volumes of pharmaceutical shipments effectively. The Airline is also part of the joint public-private taskforce set up by the Civil Aviation Authority of Singapore and Changi Airport Group. Through the joint public-private taskforce, SIA works closely with key stakeholders in the air cargo industry, as well as with regulatory authorities, to ready its capabilities to transport Covid-19 vac
[1] SIA Cargo launched THRUCOOL in September 2018 as a cold chain service to transport high-value, time-sensitive and temperature-controlled pharmaceutical cargo with speed and reliability. The service includes priority uplift and handling, quick ramp transfers at airports, cold room facilities, as well as thermal blankets and covers for crucial insulation from external factors.
[2]These agreements allow Singapore Airlines to oversee and manage the lease and return of the containers from origin to destination, thus providing a variety of cold chain container solutions to customers.