Huawei complete successful 5G test in The Faroe Islands
Huawei and Faroese Telecom carried out the first call on the Faroe Islands' new 5G network, which is provided by Huawei. Customers of Faroese Telecom can look forward to using the 5G network in selected locations in late summer.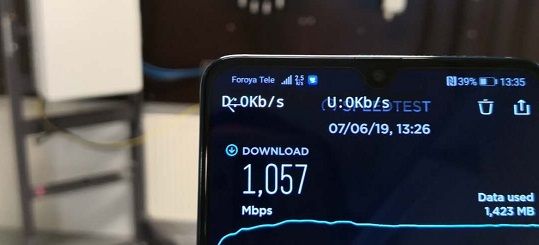 The first real test of The Faroe Islands' future 5G network was recently complete. Huawei, one of the world's leading manufacturers of 5G technology, delivered the equipment to Faroese Telecom – the two have been working closely together since 2015.
- We have a strong partner in Huawei and with several years of successful collaboration we look forward to experiencing the difference 5G will make. New technologies will be available, and The Faroe Islands will become even better connected than we already are, says Eva Skeel Nolsø, Marketing Director at Faroese Telecom.
Faroe Islands has many geographical challenges in relation to achieving complete mobile coverage, as the mountain topped islands are connected by many tunnels on land and under the sea. Nevertheless, for many years the Faroe Islands has had impressive mobile coverage.
- Over the last few years, the Faroese have become accustomed to extremely high quality in mobile communications. Even though we are located in the North Atlantic, which is in the middle of nowhere to many people, Faroese do not perceive The Faroe Islands to be disconnected. With 98.6% 4G coverage of the geographical land and sea area across all islands, the Faroese are strongly connected to each other and the rest of the world, whether they are on a mountain top or driving in a tunnel, says Eva Skeel Nolsø.
Huawei is also very satisfied with the long-awaited first call with 5G.
- We are very pleased to bring The Faroe Islands an important step closer to all the possibilities offered by 5G. The successful test means that Faroese Telecom will soon be able to offer commercial use of 5G technologies, says Mads Rasmussen, CTO at Huawei.
The first 5G call on The Faroe Islands was made at 2:23pm on June 6th on the world's fastest 5G phone, Huawei Mate 20X. It was also on this phone that Huawei and Faroese Telecom measured a download speed of over 1GB / sec, which is almost 10 times faster than what we are used to with 4G.
About Huawei Norge
Huawei Norge
Rolfsbuktveien 4A
1364 Fornebu
https://www.huawei.com
About us:
Huawei is a leading global provider of information and communications technology (ICT) infrastructure and smart devices. With integrated solutions across four key domains – telecom networks, IT, smart devices, and cloud services – we are committed to bringing digital to every person, home and organization for a fully connected, intelligent world.
Huawei's end-to-end portfolio of products, solutions and services are both competitive and secure. Through open collaboration with ecosystem partners, we create lasting value for our customers, working to empower people, enrich home life, and inspire innovation in organizations of all shapes and sizes.
At Huawei, innovation focuses on customer needs. We invest heavily in basic research, concentrating on technological breakthroughs that drive the world forward. We have more than 180,000 employees, and we operate in more than 170 countries and regions. Founded in 1987, Huawei is a private company fully owned by its employees.
For more information, please visit Huawei online at www.huawei.com or follow us on:

http://www.linkedin.com/company/Huawei  
http://www.twitter.com/Huawei  
http://www.facebook.com/Huawei  
http://www.youtube.com/Huawei