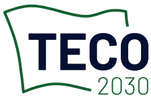 TECO 2030 ASA has commenced trading on the U.S. OTCQB Venture Market
(Lysaker, Norway, 30 June 2021): TECO 2030 ASA has been approved to trade on the U.S. OTCQB Market under ticker symbol TECFF, making the company's shares more accessible to American investors.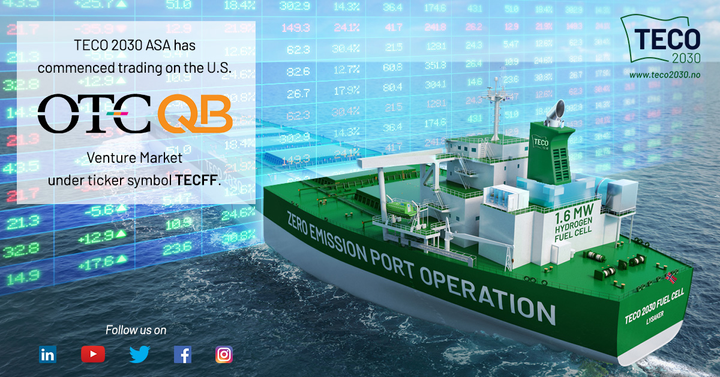 "We are delighted to be secondary trading on the OTCQB Venture Market, as this will give U.S.-based investors increased access to our shares and expand our financial flexibility through exposure in a broader marketplace," said Tore Enger, Chief Executive Officer of TECO 2030 ASA.
"Sustainability is in our DNA, and with the green transition within the international maritime industry picking up speed, we are pleased to provide investors with an attractive means of investing in greener and cleaner shipping," Enger said.
TECO 2030 is a Norwegian company that is working to make international shipping better for both the climate and the environment. The company is doing this by developing new technology that can help reduce emissions and pollution from ships, such as hydrogen fuel cells and carbon capture solutions.
With the TECO 2030 Marine Fuel Cell, ships can switch from fossil fuels to climate-friendly hydrogen. They will then be able to operate completely emissions-free and can cruise around while emitting nothing but water and warm air.
Meanwhile, TECO 2030's exhaust gas cleaning system for ships, the TECO 2030 Future Funnel, removes pollutants from ship emissions. It will soon also be able to capture and store the CO2 that the vessels would otherwise have emitted into the air, and which woud then have contributed to climate change.
The OTCQB Venture Market is the OTC Market Group's market for U.S. and international companies in entrepreneurial or development stage. TECO 2030 ASA begins trading on OTCQB under the symbol "TECFF". U.S. investors can find current financial disclosure and quotes for the company on https://www.otcmarkets.com/stock/TECFF/overview.
For more information, please contact:
About TECO 2030​
TECO 2030 (OSE: TECO) tackles one of the biggest environmental challenges of our time: How can we combine continued economic growth with reduced emissions? By developing hydrogen fuel cells, TECO 2030 enables ships and other heavy-duty applications to become emissions-free. The company also delivers other solutions to help the maritime industry reduce its environmental footprints, such as exhaust gas cleaning and carbon capture systems for ships.
To view this video from www.youtube.com, please give your consent at the top of this page.More videos
About TECO 2030 ASA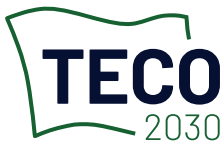 TECO 2030 ASA
Lysaker Torg 12
1366 Lysaker
+47 672 00 300
http://www.teco2030.no
TECO 2030 (OSE: TECO) aims to tackle one of the biggest environmental challenges of our time: How to combine growing global shipping volumes with reduced emissions. We believe the shipping industry can move to zero emissions by implementing new technologies, with hydrogen-based fuel cells as the ultimate solution. TECO 2030 - powering the maritime industry's transition to renewable energy.