To build new senior-level and upper secondary school in Västerås
AF Gruppen's subsidiary HMB Construction has been commissioned to build a new senior-level and upper secondary school in Västerås. The value of the contract is approximately SEK 230 million excluding VAT.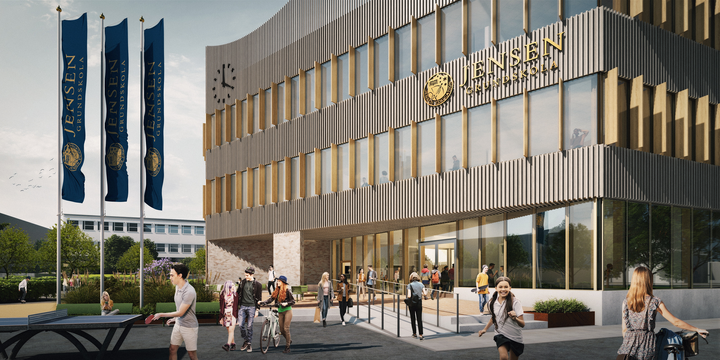 This is a design and build contract on behalf of client Hemsö.
The new Rytterborg School will have an approximate area of 7,500 m2 across four storeys, accommodating around 860 pupils in senior-level, upper secondary and vocational educations. The school is to be built at Kristiansborgsallén and its closest neighbours will be Mälardalen University and the Kristiansborg swimming facility.
"We are delighted to be given the opportunity to build new, functional school premises in an area of Västerås that is growing and badly needs more educational facilities," says Bård Frydenlund, AF Gruppen's EVP for Sweden.
The design of the new school building draws on the idea of a prism, with continuous windows running around all six facades. The ground floor will be clad in recycled brick, while the other storeys will be clad in upright wooden ribs. There will be a commercial kitchen incorporated into the ground floor, while there will be a roof terrace added to the top of the building.
Work on construction will begin immediately and the school is scheduled to be completed by the 2024 autumn term.
Contacts
Krister Karlsson, Managing Director HMB Construction, Tel. +46 705 84 18 11

Images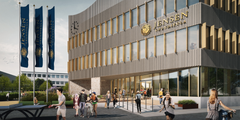 About AF Gruppen ASA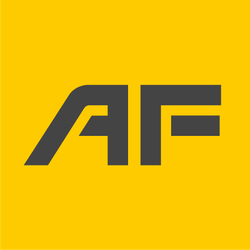 AF Gruppen ASA
Innspurten 15
0603 Oslo
+47 22 89 11 00
https://afgruppen.com
AF Gruppen is a leading contracting and industrial group that was formed by an entrepreneurial spirit and execution capabilities. The group has 5,400 employees and revenue reached NOK 27 billion in 2021. AF Gruppen is listed on Oslo Stock Exchange (AFG).
We provide a broad range of services with seven operational business areas: Civil Engineering, Building, Betonmast, Property, Energy and Environment, Sweden and Offshore.