To build homes for Ferd Eiendom and Mestergruppen Eiendom
AF Gruppen has entered an agreement with Bråtejordet Tomteselskap to build Bråtejordet B7, a housing project consisting of 125 apartments and 63 townhouses at Strømmen. Bråtejordet Tomteselskap is owned 80/20 by Ferd Eiendom and Mestergruppen Eiendom.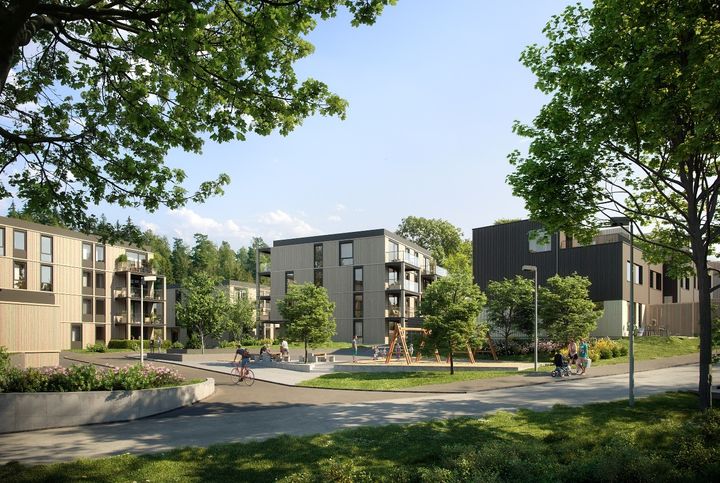 Bråtejordet B7 consists of 125 apartments distributed over 10 buildings with an underlying parking basement and 63 townhouses with corresponding green areas. The project is centrally located to public facilities and close to Strømmen in Skedsmo municipality.
The project will be carried out as a design and build contract with a value of approximately MNOK 465 ex. VAT. Previous phases have had good sales, engineering will start immediately, and construction is scheduled from Q4 2019. The project consists of three building steps with expected completion Q4 2022.
- Bråtejordet is a great living area and it is easy to commute to Oslo and its surroundings. It will be exciting to develop this project with Ferd and Mestergruppen. Ferd Eiendom and Mestergruppen Eiendom are new clients for AF Gruppen, and we look forward to be cooperating with them on this project, says Geir Flåta, EVP of AF Gruppen.
About AF Gruppen ASA
AF Gruppen ASA
Innspurten 15
0603 Oslo
+47 22 89 11 00
https://afgruppen.com
AF Gruppen is a leading contracting and industrial group. The purpose of our business is to create value for our customers, owners, employees and society at large. We are proud of our good financial results, but every bit as important are the non-financial values that we create every day. A safe working environment for our employees and sub-contractor personnel, new services that help solve society's environmental challenges and ethical business operations that create security for our customers. This in turn provides us with the opportunity to create additional value for our owners.