Sale of the office building "K5" at Hasle Linje in Oslo
Hasle Linje Næring DA, a company of which 49.5% is owned by AF Gruppen, 49.5% by Höegh Eiendom and 1% by Vind AS, has accepted an offer by Clarkson Platou Real Estate regarding the sale of all the shares in the Karvesvingen 5 AS company. This company owns the newly constructed smart building "K5" at the same address.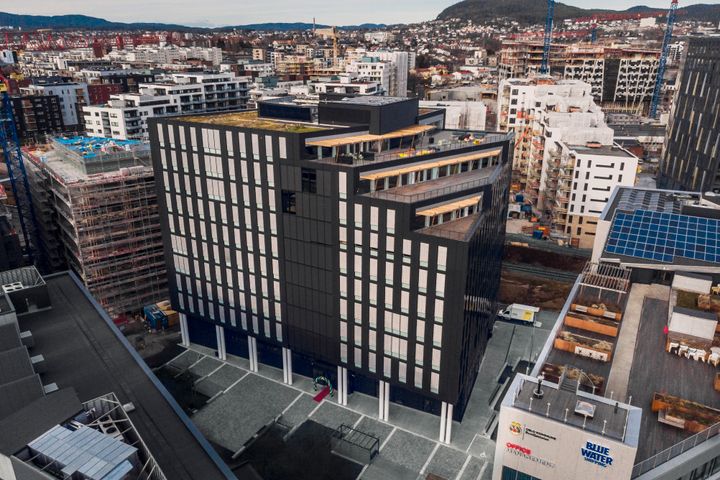 Karvesvingen 5 is an office building with a GBA of approx. 18,000 square metres, and ATEA, the principal tenant, moved into the building during the first quarter of 2020. The building has been constructed by AF Gruppen and achieved a BREEAM-NOR environmental classification of Excellent. Höegh Eiendom will continue to manage the building after the transaction is completed.
The sale is estimated to provide AF Gruppen with an accounting gain of NOK 95 million. 
"Over a short period of time, Hasle Linje has developed into a very vital district, centrally located and easily accessible. 'K5' is often referred to as Europe's smartest building, and we are very pleased to have reached an agreement in direct negotiations with Clarkson Platou Real Estate. Apart from this, the parties have agreed not to comment on details until the sale is finally completed", says Morten Grongstad, CEO of AF Gruppen.
The bid is subject to financing and satisfactory due diligence. It is expected that the transaction will be completed by the end of October 2020.  
About AF Gruppen ASA
AF Gruppen ASA
Innspurten 15
0603 Oslo
+47 22 89 11 00
https://afgruppen.com
AF Gruppen is a leading contracting and industrial group that was formed by an entrepreneurial spirit and execution capabilities. The group has 5,700 employees and revenue reached NOK 22.5 billion in 2019. AF Gruppen is listed on Oslo Stock Exchange (AFG).
We provide a broad range of services with seven operational business areas: Civil Engineering, Building, Betonmast, Property, Energy and Environment, Sweden and Offshore.