Infection control in Norwegian airports
Since the end of January 2020, Avinor has been following the advice and guidelines issued by both the national and local health authorities in order to ensure that good infection control measures are in place at Norway's airports.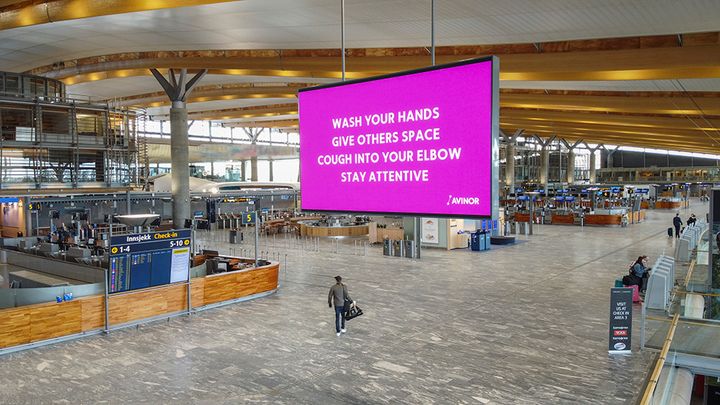 Measures introduced in January
The measures introduced from the end of January included information for passengers displayed on digital screens, posters and other visible locations throughout the terminals, as well as up-to-date information on our website and social media. This material was supplied by the Norwegian Directorate of Health. Cleaning of public areas was enhanced and there was a particular focus on surfaces that are frequently touched. Furthermore, we implemented more frequent checks of our toilets including refills of soap, paper towels and general cleaning checks.
Infection control guidelines from the authorities
Avinor has been working actively to develop further infection control measures that will be implemented in Norwegian airports. These supplement the existing measures. On 27 April, the authorities issued their own guidelines relating to infection control in aviation.
- Both passengers and employees will experience more visible measures in place in the terminal in the time to come, and we are still working on implementing these,' says Avinor's Head of Communications Joachim Westher Andersen. The measures implemented will vary somewhat from airport to airport.
Distancing and focus on cleaning
- There will be an increased focus on ensuring that recommended distancing is maintained. The closure of some check-in machines, markings on the floor and further information on electronic displays and posters are all examples of this. We are also evaluating the use of plexiglass to prevent infection between employees and passengers,' Andersen explains.
Cleaning has been adapted to the prevailing needs at any given time, and there is a significant focus on points of contact in the terminal that are used frequently by passengers. The availability and positioning of hand sanitiser remains an important and prioritised measure.

Information for arriving passengers about quarantine procedures and separate guidelines for dealing with people with suspected illness will continue as before.
- For us, it is absolutely essential that we follow the applicable guidelines issued by the Norwegian authorities in order to ensure infection control is fully enforced at all of Norway's airports,' says Westher Andersen. 'We are pleased that clear guidelines have been issued by the authorities that confirm our measures are appropriate. Even if individual municipalities have the specific responsibility for preventing infection, we want to contribute accurate, comprehensive information to all passengers in our capacity as the airport operator,' he concludes.
Kontakter
Press service for journalists
We do not answer inquiries between 2100 and 0630 unless there is a critical incident. For info regarding flights - see avinor.no and choose airport.

Tel:
+47 918 15 614
presse@avinor.no
Om The Avinor Group

The Avinor Group
Dronning Eufemias gate 6
0191 Oslo
+47 67 03 00 00
https://avinor.no/en/corporate/about-us/the-avinor-group/about-the-company
Avinor is a wholly-owned state limited company under the Norwegian Ministry of Transport and Communications and is responsible for 43 state-owned airports.


Avinor has taken a leading role in reducing climate gas emissions from the aviation industry, including the development of electric aircrafts and supplying sustainable jet-biojetfuel.


Avinor provides safe and efficient travels for around 50 million passengers annualy, half of which travel to and from Oslo Airport.


Over 3000 employees are responsible for planning, developing and operating an efficient airport and air navigation service. Avinor is financed via airport charges and commercial sales.  The air navigation services is organized as ​subsidiary wholly-owned by Avinor. Avinor's headquarter is in Oslo.