HMB to build school and sports hall in Borlänge
AF Gruppen's subsidiary HMB Construction B has signed a contract with Borlänge municipality and Hemsö Fastighets AB to build the new Paradis school with pre-school, elementary school and sports hall.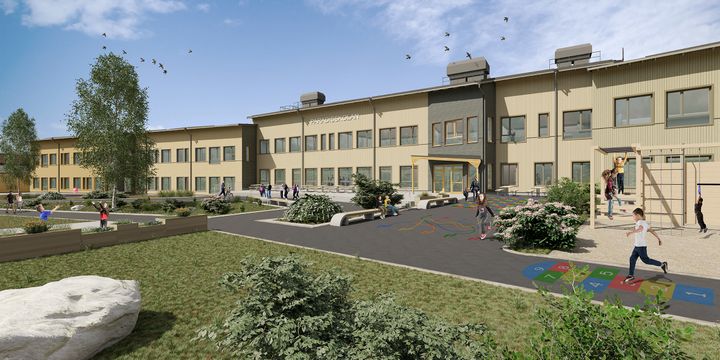 The contract is worth approximately SEK 191 million excl. VAT.
Paradis school is scheduled to open for the autumn term in 2021 in the Tjärna city district for 500 pre-school and elementary school children up to year five. A sports hall will also be built in addition to the school. The total floor area is approximately 10,000 square metres.
The school will be built in accordance with the concept "School in the middle of the city", which means that the premises will be a meeting ground for all ages and interests in the local area, also outside of school hours.
- "We are grateful for the opportunity to build Paradis school and to be allowed to develop Borlänge with a new place people can get together," says Bård Frydenlund, EVP Sweden in AF Gruppen.
Work on Paradis school will commence before the turn of the year. The execution contract will be carried out in close cooperation with Hemsö Fastighets AB, which through its subsidiary Hemsö Skolfastigheter AB will take on the role as client from Borlänge municipality after the contract is signed. The finished school will be leased to Borlänge municipality.
HMB Construction is one of seven subsidiaries of AF Gruppen Sverige. HMB has operations in Stockholm, Mälardalen, Dalarna, Västmanland, Uppland and Gästrikland. In 2018 the company recorded sales of SEK 1.3 billion.