Further collaboration at the University of Oslo's Blindern campus
The University of Oslo has nominated AF Gruppen the contractor for a collaborative contract on a turnkey basis for the renovation of Eilert Sundts hus B at their Blindern campus.
The goal of this partnership is to find the best, most cost-effective solutions for the execution of the assignment within the limits of an agreed upon fixed price.
The estimated budget is NOK 104 million excluding VAT.
The work encompasses the collaborative phase, project planning and the total renovation of the fifth to the twelfth floors, including new floor plans and technical facilities. The renovation of these storeys also includes all windows. The building will be fitted with new ventilation units and cooling systems located on the roof.
The building has a total area of approx. 8,000 m2. The collaborative phase will run until 1 May 2021. Completion is expected in July 2022.
'We are delighted to continue our great partnership together with the University of Oslo, having previously worked with them to refit many of their finest heritage buildings. This is an exciting and challenging assignment in which we look forward to exercising our expertise in collaboration and renovation,' says Eirik Wraal, EVP of AF Gruppen.
Images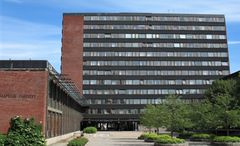 About AF Gruppen ASA
AF Gruppen ASA
Innspurten 15
0603 Oslo
+47 22 89 11 00
https://afgruppen.com
AF Gruppen is a leading contracting and industrial group that was formed by an entrepreneurial spirit and execution capabilities. The group has 5,700 employees and revenue reached NOK 22.5 billion in 2019. AF Gruppen is listed on Oslo Stock Exchange (AFG).
We provide a broad range of services with seven operational business areas: Civil Engineering, Building, Betonmast, Property, Energy and Environment, Sweden and Offshore.