Building the first homes in a new district in Västerås
AF Gruppen's subsidiary HMB Construction is building three tower blocks with 120 apartments for Riksbyggen in Råby in Västerås, 100 km west of Stockholm.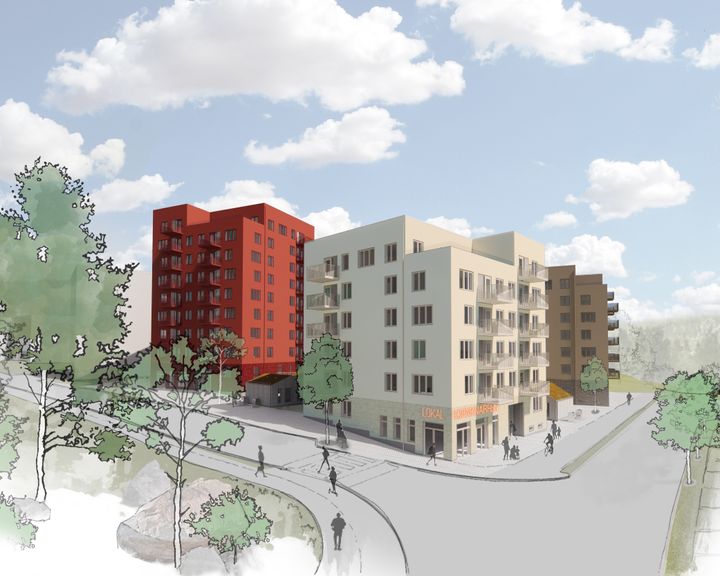 The project is developed as a collaboration. The contract is worth a total of approximately SEK 124 million, excluding VAT.
Production will start now in August and the apartments are expected to be ready for occupation in 2022. On behalf of the City of Västerås, Riksbyggen, together with Hemsö, has developed seven tower blocks, a nursery school and a nursing home.
HMB has been an advisor to the developers throughout the detailed planning process and has also, together with Riksbyggen, designed the relevant homes with well-known methods and safe material choices.

"Riksbyggen and HMB Västerås have collaborated successfully for several years and we are now looking forward to an excellent joint result in Råby," says Bård Frydenlund, Executive Vice President of AF Gruppen Sweden.

HMB has already been commissioned to prepare for the start of construction in the entire area. The work includes demolition, provision of water, heating, electricity and broadband, as well as preparation of roads and land.
Contacts
Andreas Rydbo, Managing Director AF Gruppen Sweden, tel. +46 31 762 40 03

About AF Gruppen ASA
AF Gruppen ASA
Innspurten 15
0603 Oslo
+47 22 89 11 00
https://afgruppen.com
AF Gruppen is a leading contracting and industrial group that was formed by an entrepreneurial spirit and execution capabilities. The group has 5,700 employees and revenue reached NOK 22.5 billion in 2019. AF Gruppen is listed on Oslo Stock Exchange (AFG).
We provide a broad range of services with seven operational business areas: Civil Engineering, Building, Betonmast, Property, Energy and Environment, Sweden and Offshore.