Awarded design and build contract for Os school and sports arena
AF Gruppen has been nominated by Halden municipality as design and build contractor for Os school and sports arena. The estimated contract value is NOK 405 million excluding VAT. Building is expected to start in August 2019 following approval by the municipal council, and expected takeover is in June 2022.
The contract comprises collaboration and execution of a new primary and lower secondary school for 660 pupils, and a sports facility with a handball hall with handball courts, a match court for 1st division handball and a general purpose hall. The total gross area is 15,750 m2.
"We are very pleased with being awarded an interesting school project. Together with the customer we are looking forward to realising a future-oriented project. Our building operations in Østfold have systematically worked on executing several school buildings recently in both Østfold and Follo. Os school and sports arena will be an important contribution in developing this expertise," says Geir Flåta, EVP of AF Gruppen.
Bilder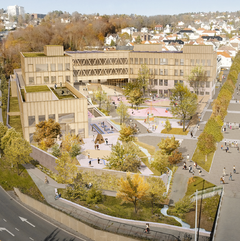 Om AF Gruppen ASA
AF Gruppen ASA
Innspurten 15
0603 Oslo
+47 22 89 11 00
https://afgruppen.com
AF Gruppen is a leading contracting and industrial group. The purpose of our business is to create value for our customers, owners, employees and society at large. We are proud of our good financial results, but every bit as important are the non-financial values that we create every day. A safe working environment for our employees and sub-contractor personnel, new services that help solve society's environmental challenges and ethical business operations that create security for our customers. This in turn provides us with the opportunity to create additional value for our owners.