AF Gruppen saw stable growth and strong earnings
AF Gruppen (AFG) reports good growth and strong earnings for Q4 and 2019. Revenues increased by 14 per cent to NOK 6,465 million in the quarter, and increased by 20 per cent for the year. The profit margin was 6.0 per cent in Q4 and 5.8 per cent for 2019.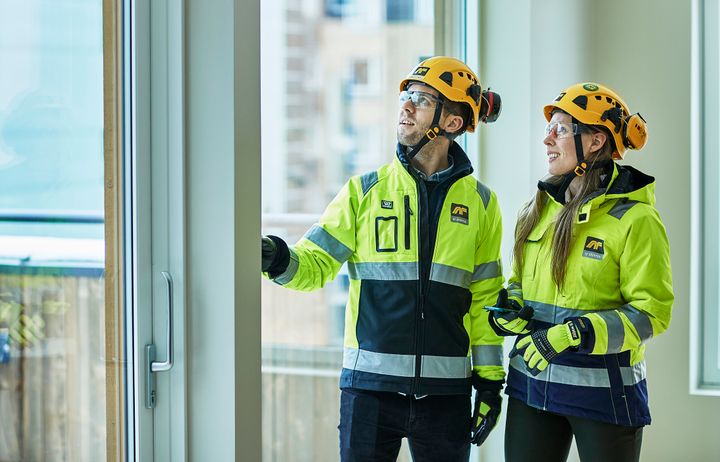 AF Gruppen's revenues were NOK 6,465 million (5,656 million) in Q4 and profit before tax was NOK 388 million (373 million), which corresponds to a profit margin of 6.0 per cent (6.6 per cent). Revenues totalled 22,612 million (18,767 million) for the year. Earnings before tax were NOK 1,317 million (1,136 million) for 2019. This corresponds to a profit margin of 5.8 per cent (6.1 per cent). The total order backlog was a record-high NOK 28,200 million (21,541 million) as at 31 December 2019. 
AF Gruppen is in a very strong financial position. Net operating cash flow from operations was NOK 784 million (582 million) for Q4 2019. As at 31 December 2019 AF Gruppen had net interest-bearing liabilities of NOK 163 million, as opposed to net interest-bearing receivables of NOK 894 million at the end of 2018. The change is mainly due to the implementation of a new accounting standard (IFRS 16) from 1 January 2019. Lease liabilities recognised on the balance sheet as a result of the change to the standard were NOK 941 million as at 31 December 2019, and these are included in net interest-bearing liabilities. Earnings per share for 2019 were NOK 8.50 (7.88). The Board of Directors has proposed a dividend of NOK 6.00 (5.00) per share for the first half of 2020. 
"Good risk and project management and a record-high level of activity contributed to AF Gruppen reporting the best quarter on record in terms of revenue, profits and order backlog. At the same time, we have even greater ambitions for the future, and we shall continue to improve the existing business and explore new business opportunities. By way of good interaction and collaboration with the customers, we shall contribute to innovation and benefit to society," says Morten Grongstad, CEO of AF Gruppen. 
AF has an uncompromising attitude towards safety, and imposes the same stringent safety requirements on all partners and suppliers as on our own employees. Figures from subcontractors are included in the injury statistics. The LTI rate for the fourth quarter was 1.5 (0.6). For 2019, the LTI rate was 1.2 (0.8). 
AF works systematically to avoid work-related absence. The goal is overall sickness absence of less than 3.0 per cent. Sickness absence for Q4 was 4.4 per cent (3.3 per cent). 
"The underpinning for our business is to continue to attract and develop the best people in the industry. AF shall be a company talent seeks out, regardless of gender. We must enable equal opportunities for all, and we have high ambitions for diversity in general and the share of women in particular. We take a long-term approach to this, and it is satisfying that the work is yielding positive results. At the same time we shall further develop the working environment and the ability to engage in good project management, and we have an unambiguous goal of no work-related absence due to injuries," Grongstad says.
 
Selected highlights from the quarter:
Civil engineering operations achieved a profit margin of 12.3% in Q4. Several projects in the closing phase entail a significantly lower level of activity for AF Civil Engineering compared to the same quarter in 2018, but the unit has delivered very good results. The unit has entered into several major contracts in the quarter.
In the fourth quarter the Building business area reported revenues of NOK 2,788 million and achieved a profit margin of 7.4%. Most of the business units in the segment have growth in revenues and report good results for the quarter. For the year, revenues were NOK 10,581 million, which corresponds to a growth in revenue of 16.9% compared to 2018.
Betonmast became a part of AF Gruppen on 31 October 2019. In the last two months of 2019 Betonmast saw revenues of NOK 1,226 million and reported a pre-tax profit of NOK 46 million, corresponding to a profit margin of 3.8%.
The Property business area had good sales in several projects with 60 (47) residential units sold in Q4, of which AF's share is 22 (17). The unit had ownership interests in residential projects with a total of 235 (260) units for sale at the end of the quarter. AF's share was 88 (103). The sales ratio for started projects is 84%.
Energy and Environment had a growth in revenues of 29% compared to the same quarter of 2018, with a profit margin for the quarter of 11.5%. There is a high level of activity in service and energy savings contracts (EPC), demolition and recycling at the environmental centres.
In the fourth quarter the Sweden business area reported growth in revenues of 66% compared to the same quarter the previous year, which was mainly related to the acquisition of HMB and revenue growth in Kanonaden.
The Offshore business area reports revenue growth of 32% compared to the same quarter the previous year, but failed to deliver satisfactory results. The markets for the removal of offshore installations and climate control (HVAC) are characterised by intense competition in the short term, while the electrification of the marine sector is providing new market opportunities.
afgruppen,com/investor-information
About AF Gruppen ASA
AF Gruppen ASA
Innspurten 15
0603 Oslo
+47 22 89 11 00
https://afgruppen.com
AF Gruppen is a leading contracting and industrial group that was formed by an entrepreneurial spirit and execution capabilities. The group has 5,700 employees and revenue reached NOK 18.8 billion in 2018. AF Gruppen is listed on Oslo Stock Exchange (AFG).
We provide a broad range of services with seven operational business areas: Civil Engineering, Building, Betonmast, Property, Energy and Environment, Sweden and Offshore.