206 flats to be built for Selmer Eiendom at Ensjø
AF Gruppen has signed an agreement with Gladengveien 4 AS regarding the construction of 206 flats at Ensjø in Oslo. Gladengveien 4 AS is owned by Selmer Eiendom.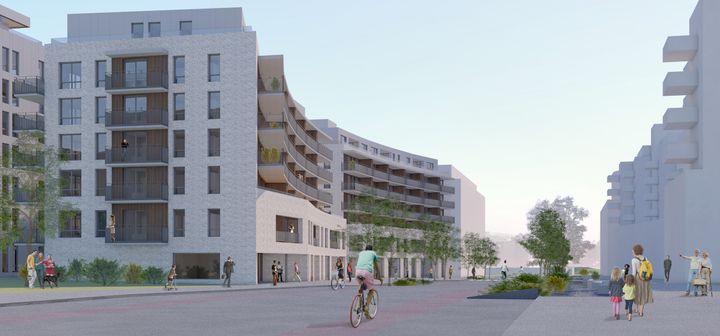 Gladengveien is located in the historical "car-town of Ensjø". Today, the area is used by car dealerships and for car parking, and is in close proximity to Ensjø metro station, shops and cafes. The buildings will be erected around two courtyards and will face out towards Elipseplassen. The new construction at Ensjø will also become part of the car-town's transformation into an attractive residential and commercial area.
Gladengveien 3-7 consists of 206 flats divided into 4 blocks (A, B, C and D) that will be 7 and 8 storeys high. Shops, a kindergarten and businesses will be established on the buildings' ground floors. Approximately 15,000 m2 of usable floor area for flats and approximately 3300 m2 of gross floor area for shops, the kindergarten and businesses. There is also a basement car park with storage areas and technical rooms measuring about 6600 m2 of gross floor area. 30,800 m2 of gross floor area in total.
The project is to be carried out based on a design and build contract and will have a value of approx. NOK 557 million ex. VAT. The start of construction is planned for the 2nd quarter of 2020. The project is scheduled to be completed by the 4th quarter of 2022. Project commencement is subject to the board's final approval.
"We look forward to taking further part in the positive urban development of Ensjø. Early phase interaction between property owners and contractors has allowed us to jointly develop a project that we believe is appealing to homebuyers, and that possesses good conditions regarding an efficient construction process", says Morten Grongstad, CEO of AF Gruppen.