Nominated for International Recycling Award
Marine growth from recycled platforms becomes nutritious fertiliser in soil. The British oil company TAQA, Reve Kompost and AF Offshore Decom have been nominated for an international sustainability award for decommissioning excellence.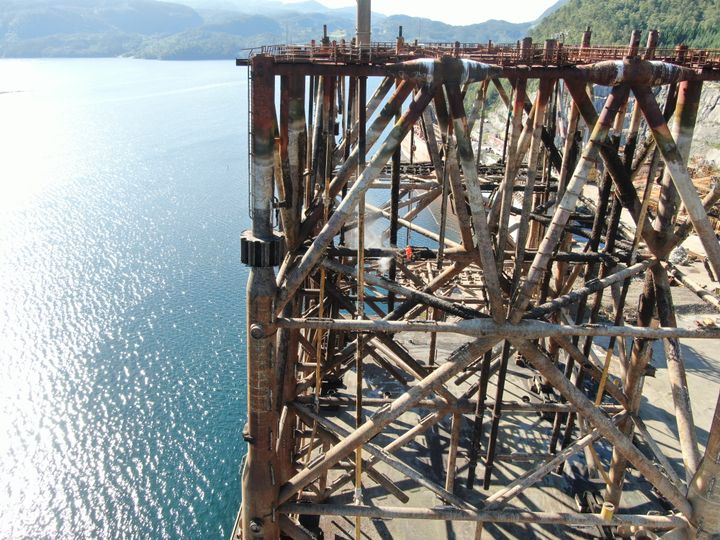 The Decom North Sea Awards has nominated the project for circular and sustainable disposal of 325 tonnes of marine growth from the Brae Bravo Jacket. Marine growth from the 11,000-tons platform jacket is now used in soil improvement products supplied by Reve Kompost in Rogaland. The winners of the Awards will be announced at a ceremony on 16 May as a part of Decom Week 2023.
Since 2021, AF Offshore Decom has delivered 900 tonnes of marine growth from seven platform jackets to the family business Reve Kompost in Rogaland in Norway. Its proximity to AF Environmental Base Vats in Rogaland, makes Reve Kompost to a part of an ideal local supply chain for recycling this waste.
Important component
Based on a product which initially had improved the soil quality on their own farm, Reve Kompost has developed one of the most modern composting facilities in Norway. The marine growth consists of mussels and corals which make it to a substantial calcic source for the soil fertilisers. The marine growth is used as an important component in Reve Komposts nutritious fertiliser and soil products.
"Dismantling and recycling of offshore installations is an important part of the green transition.This nomination is a recognition of the work we have done to together with the customer and our partner, to improve the utilization of marine growth," says Lars Myhre Hjelmeset from AF Offshore Decom.
Circular economy
This proves tangible evidence of the circular economy given nearly all marine growth can be used as raw materials in new production. The removal of Brae Bravo was carried out by a consortium consisting of Heerema Marine Contractors and AF Offshore Decom on behalf of TAQA. The superstructure and jacket were transported to AF Environmental Base in Vats where it was dismantled and sent for recycling. Almost everything at a platform can be reused. A total of 38,000 tonnes of steel are so far sent for recycling.