WEF 2023: ProjectTogether receives the Schwab Foundation Collective Social Innovation Award recognizing the power of collaborative action
The non-profit organization ProjectTogether received the Schwab Foundation's Collective Social Innovation Award 2023 at the World Economic Forum (WEF) in Davos. As the first award winner in this category, the Schwab Foundation recognizes ProjectTogether for its new approach to orchestrate collaborative action between bottom-up innovators and top-down institutions to create impact. At the award ceremony, founder Philipp von der Wippel explained the vision of a pan-European approach to collective action—across all sectors and political levels—to tackle ongoing and looming societal challenges.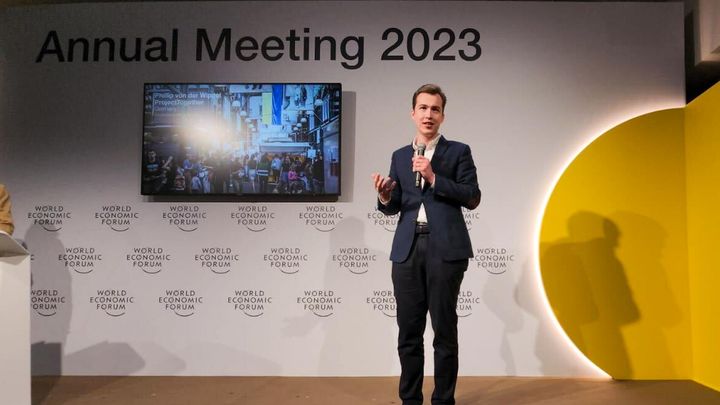 (Davos, Switzerland): Global, complex and interconnected crises happen ever more frequently. States and societies are in urgent need of a working model for effective cross-sector collaboration. The Berlin based non-profit organization ProjectTogether tackles this challenge. ProjectTogether has so far involved more than 100,000 people and 80 governmental institutions in 10 mission-oriented processes like #WirVsVirus, Alliance4Ukraine, UpdateDeutschland, Farm-Food-Climate and Circular Futures. More than 2,000 social initiatives have been supported in scaling solutions for societal challenges.
Philipp von der Wippel:
"We all know that the existential challenges we face can only be solved collectively. But our institutions do not reflect that. They are not designed to orchestrate collective action. We have to make collective action part of our democratic framework. Imagine a process in which thousands of organizations and individuals come together and assemble around societal challenges, build trust, share resources and join in collectives in which they create more impact than they could ever have done individually. This is not daydreaming, this is what we do at ProjectTogether. (…) Let's harness the biggest asset we have in our democracy: the power of the people!"
Kontakter
jtoedte@projecttogether.org

www.projecttogether.org/en

Om news aktuell GmbH

news aktuell GmbH
Mittelweg 144
20148 Hamburg
+49 (0)40 4113-32589
http://www.newsaktuell.de
news aktuell, a subsidiary of the Deutsche Presse-Agentur (dpa), provides companies, institutions and associations with effective access to both the media and consumers and supports the organizations in telling their stories easily and successfully. Utilizing the digital tools "ots" and "zimpel" PR content reaches all media formats, including classic print titles, wide-reach online portals or social networks. In addition, news aktuell publishes all of its clients' PR content on www.presseportal.de, one of Germany's widest-reaching PR portals. Thus, all relevant multipliers are reached worldwide, ranging from editors and digital influencers to specialist bloggers and interested consumers. Communications specialists from all over Germany rely on the expertise of the dpa subsidiary. news aktuell has been on the market since 1989 and employs over 135 people. The company is based in Hamburg. Further locations include Berlin, Frankfurt and Munich.