Useful travel tips for anyone planning to fly during the Norwegian winter holiday
The winter holiday is approaching fast and many people will be travelling during the next two weeks. More than 90,000 passengers are expected to pass through Oslo Airport on Friday, 14 February and Sunday, 23 February.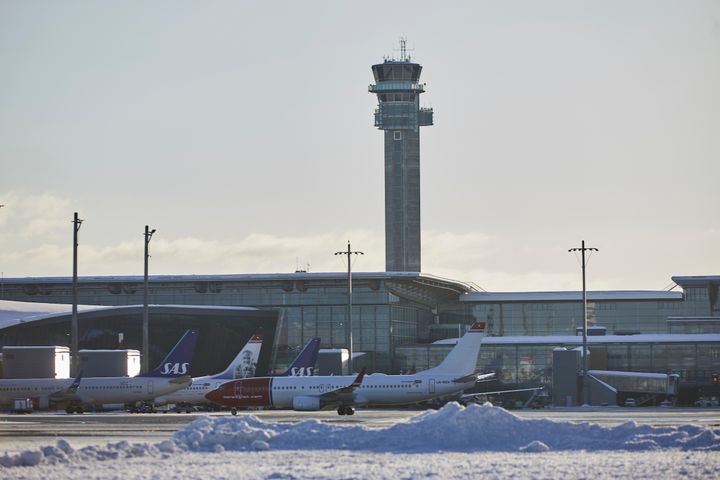 - At Avinor Oslo Airport, we are well prepared and ready to welcome an extra high volume of passengers during the next few weeks," says Joachim Westher Andersen, Head of Communications at Oslo Airport. So that travellers can get off to a good start in this year's winter holiday, we have prepared some good advice for anyone intending to fly from Norway's main airport.
1. Allow some extra time
Relax and allow some extra time. Then check-in, sending of any special baggage, and going through security control will be easier. If you are going to travel to countries outside the Schengen area, it is a good idea to calculate some extra time for passport control.
2. Check if your plane is on schedule
You can check all arrivals and departures at avinor.no and via the Avinor app. Otherwise, keep updated with information about your trip from your airline.
3. Pack smart
During the winter holiday, passengers often have special baggage such as prams, skis and golfing kit. Acquaint yourself with your airline's rules on how to send this. Check that long straps, loops and the like are tied together so that they cannot get stuck in the baggage belt. This particularly applies to rucksacks and bags. If you are not sure whether your baggage is properly packed, please contact a member of the check-in staff.
4. Prepare for security control
You can save a lot of time at security control if you are not carrying liquids of more than 100 ml. All liquids, creams and gases are covered by the rules for liquids, and all loose metal objects must be removed. Larger electronic items such as PC, tablet and photo equipment should also be removed from carry-on luggage during the control. Put valuables such as your passport, mobile phone, money, jewellery etc. in your carry-on baggage or in your jacket. Keep your glasses on and make sure to take all your possessions with you when you leave security control. It's easy to forget something!

5. Will you be travelling with children?
At Oslo Airport we have separate entrances to security control for families with children under the age of 12. We also offer prams, a breastfeeding corner, play areas, free water and Wifi. An overview of all our services for families with children can be found here. 
6. Do you need special assistance?
At Oslo Airport we can offer several services for passengers with disabilities. Remember that you must book assistance well in advance of departure. If you book later than 48 hours before departure, you must expect a longer wait.  
7. Get an overview of the various services at the airport
Through our Avinor app and our website avinor.no you can get a complete overview of the airport's shopping and dining options, maps and information about your departure. We have a large selection of restaurants and cafés, kiosks and shops, so you have plenty to choose from. There are good parking facilities with a variety of prices.
8. We can help you if you have any questions
If you have any questions about your visit to Oslo Airport, passenger service in the arrivals hall is open for most of the day. If you can't find your way around the airport, please contact one of our airport guides who are easily recognisable with their yellow t-shirts. Feel free to send a message to our inbox or via our Facebook page if you have any questions. 
9. Is Oslo your destination during the winter holiday?
For anyone arriving in Oslo, we recommend Visit Oslo's activity guide where you can find an overview of a variety of activities taking place in the Oslo area.
Have a good trip!

Number of passengers:
Thursday, 13 February: 83,362 passengers

Friday, 14 February: 92,257 passengers

Saturday, 15 February: 51,910 passengers

Sunday, 16 February: 86,823 passengers

Monday, 17 February: 76,149 passengers

Tuesday, 18 February: 60,535 passengers

Wednesday, 19 February: 70,392 passengers

Thursday, 20 February: 80,628 passengers

Friday, 21 February: 88,312 passengers

Saturday, 22 February: 52,933 passengers

Sunday, 23 February: 92,880 passengers
Contacts
Press contact numberPress service for journalists
Travellers are adviced to call our passenger service at +47 915 06 400
+47 918 15 614
About The Avinor Group

The Avinor Group
Dronning Eufemias gate 6
0191 Oslo
+47 67 03 00 00
https://avinor.no/en/corporate/about-us/the-avinor-group/about-the-company
Avinor is a wholly-owned state limited company under the Norwegian Ministry of Transport and Communications and is responsible for 44 state-owned airports.


Avinor has taken a leading role in reducing climate gas emissions from the aviation industry, including the development of electric aircrafts and supplying sustainable jet-biojetfuel.


Avinor provides safe and efficient travels for around 50 million passengers annually, half of which travel to and from Oslo Airport.


Over 3000 employees are responsible for planning, developing and operating an efficient airport and air navigation service. Avinor is financed via airport charges and commercial sales.  The air navigation services is organized as ​subsidiary wholly-owned by Avinor. Avinor's headquarter is in Oslo.