To all the great clients of Time2Staff! You do want to read this=D
We are now launching a great feature that we think you will like a lot! Time2Staff Academy do now present a solution that allows us to offer our staff 2 training videos that staff can watch before work.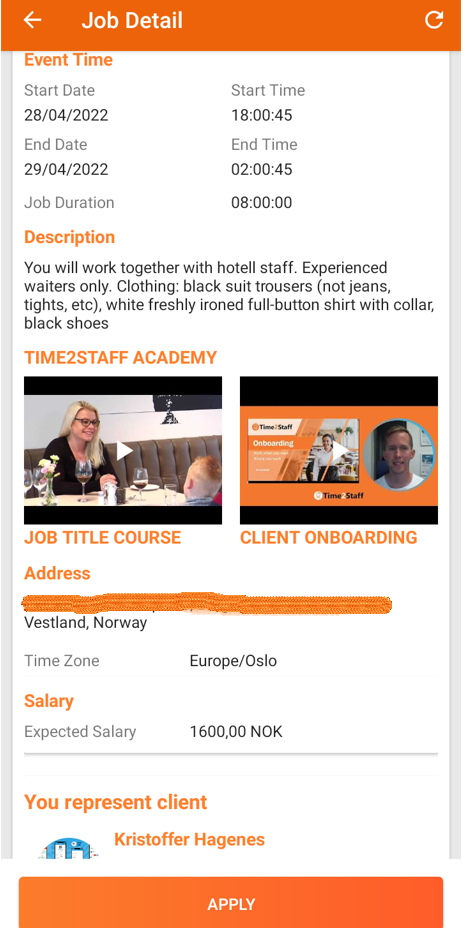 This feature is something we've been talking about for a long time, and it's finally here!
We will handle the training courses that is containing our basic training courses. (Basic waiter / chef / bartender courses etc)
What we need from you is a video that tells about your location / company, which makes the employees better prepared for the job.
1. Presentation of you as a contact person outside the building where you show the entrance.
2. If you take a tour of the location, show for example where toilets / changing rooms are located.
3. What are you as a customer concerned about staff doing / not doing?
4. What is the most important thing for you to give 3 stars in rating?
5. Other practical things that can be clarified in a basic video?
Upload the video to youtube and send us the youtube link by email to support@time2staff.com and we will post it on your app profile.
PS! Remember to choose allow "built in/installation"
For å se denne videoen, må du gi ditt samtykke øverst på denne siden.PresentasjonVideokanal
Om Time2Staff

Time2Staff
Lien 79
5057 Bergen
+4755903020
http://www.time2staff.com
Time2Staff works every day to strengthen the quality of the staff in the app. Especially after covid times, strengthening education and training will be extra important.
The launch of this feature is proof that we are serious about it.
Do you have any other suggestions on how we can get better? We develop our app every day with our own developers. Contact us if you have requests for new functions!