Time2Staff news for our costumers!
Thank you so much for downloading the Time2Staff app and for being a part of our wonderful community. Here we do present some exciting news that we think will be nice for you to know. We have officially launched the app in Bergen and Oslo. Trondheim will be launched very soon! With us, you should be able to find staff in a fast and efficient way where you hire the staff you need. Are you looking for someone in permanent positions? We offer you to pick up personnel from our app completely free of charge if you hire them in permanent full-time positions.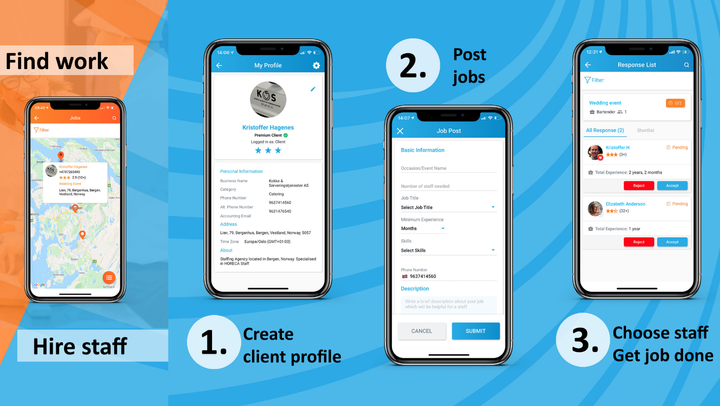 Please note that we will not be able to resolve the critical chef-situation until Norway fully reopens.
Until then, waiters and other extra staff will be our strength during the construction phase, with a focus on the cities we have launched in.
Practical information:
- You can easily book extra staff in the app whenever you want.
- The users who have the job title you are applying for can apply for the job immediately.
- In addition, there is an automatic invitation to everyone with the right job title within a 100 km radius from where the job is.
- Among those who apply, you choose who you want to assign the job to.
- When the job starts, the staff will be able to check into the app, you approve the stamping continuously.
- When the job is finished, the employees check out, and you approve and rate the user with 1-3 stars.
- The price of ALL our jobs is 299, - excl. VAT. 40% surcharge beyond 9 hours.
- We take care of all statutory requirements for staff. (Contract, salary, insurance, pension etc)
- Also remember that you can hire our staff for your permanent full-time positions at any time. Completely at no extra cost or recruitment fees.
We are early in the start-up phase and would very much like feedback from you / you if there is anything we can do to make your staffing everyday life easier.
Feel free to take a meeting with us if you want a review of the app or how things work.
If not, you will also find a review of the app in the video below.
Feel free to reply me directly to this email: kristoffer.hagenes@time2staff.com or call me at 47265490.
Kristoffer Hagenes,
CEO Time2Staff
To view this video from www.youtube.com, please give your consent at the top of this page.Onboarding clients (NORWEGIAN LANGUAGE)More videos
About Time2Staff

Time2Staff
Lien 79
5057 Bergen
+4755903020
http://www.time2staff.com
Time2Staff is a unique digital platform that connects employers with staff. With us, our customers can hire staff for extra jobs as well as permanent positions, whenever they want and when they want. 


These are our plans for the future in the short term:
- Launch in Trondheim.
- Launch in the rest of Norway.
- Launch in the grocery industry.
These are our plans for the long term:
- Launch in Scandinavia / Europe.
- Launch Time2Health (Health Workers)
- Launch Time2Teach. (Teachers - Kindergarden)