Third quarter strongly affected by the pandemic
Avinor's result and solvency will be strongly negatively affected by the corona pandemic in 2020, and there will be a need for capital injections beyond what has already been implemented. Avinor has an ongoing dialogue with the owner about measures to strengthen the group's equity, also for 2021.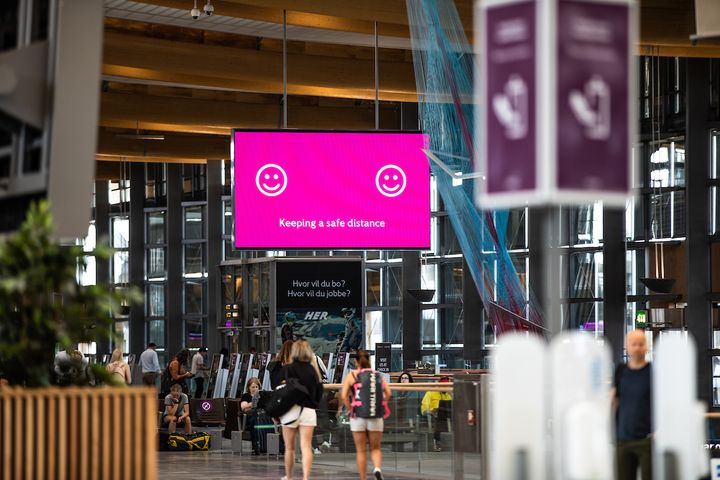 Air traffic in the period 01.01 - 30.09.2020 measured in number of passengers over Avinor airports was reduced by 59 percent compared with the corresponding period in 2019. In the third quarter alone, the decrease was 67 percent passengers, and the number of air movements in the third quarter was down 38 percent.

Operating revenues compared to the same period last year have been reduced by almost 70 percent, while operating costs have been reduced from NOK 2,115 million to NOK 1,743 million. The group's profit after tax amounted to minus NOK 356 million, compared with NOK 770 million in the third quarter of 2019.

The work of facilitating good infection control that provides a good and safe travel experience has a high priority.

Avinor works to ensure continuity and ongoing operations during the corona pandemic. A program has been implemented that seeks to find more cost-effective solutions for the business.

-The goal is to become a profitable Avinor again as soon as possible, of course with a focus on maintaining safe and stable operations. Cost reductions are being implemented as well as measures to ensure the group's financial solvency in the longer term, explains CEO Dag Falk-Petersen.

At the end of the third quarter of 2020, a total of 312 employees were fully or partially laid off in the Avinor Group. The investment level has been reduced by NOK 1 billion and is adapted to the financial situation the company is in.

Loss of income between NOK 7-8 billion
To remedy the airlines financially, the Government suspended the vast majority of Avinors' airport charges in the period from 13 March to 31 October 2020. Based on available information and updated forecasts, a revenue loss of around NOK 7 to 8 billion is estimated for the 2020 financial year.

On 19 June 2020, it was decided in the Norwegian Parliament to give Avinor grants of up to NOK 4,270 million, as well as to grant a one-year deferral of the installments on the company's government debt. As of the end of September, NOK 2,570 million has been paid out, of which NOK 2,500 million has been recognized as a subsidy from the state and NOK 70 million is a subsidy for the operation of Haugesund Airport, which is operated by Haugesund Airport Group, which is not part of the Avinor Group.

The Avinor Group's operating revenues in the third quarter of 2020 amounted to NOK 1,413 million, a reduction of 56.4 per cent from the corresponding reporting period in 2019. Excluding revenue recognized by the state in the third quarter of NOK 400 million, the reduction was NOK 68.8 per cent.

Total operating costs, including goods costs and depreciation, amounted to NOK 1,743 million, compared with NOK 2,115 million in the corresponding reporting period in 2019. The reduction is related to a reduction in volume-dependent costs and cost-reducing measures.
Kontakter
Press service for journalists
We do not answer inquiries between 2100 and 0630 unless there is a critical incident. For info regarding flights - see avinor.no and choose airport.

Tel:
+47 918 15 614
presse@avinor.no
Om The Avinor Group

The Avinor Group
Dronning Eufemias gate 6
0191 Oslo
+47 67 03 00 00
https://avinor.no/en/corporate/about-us/the-avinor-group/about-the-company
Avinor is a wholly-owned state limited company under the Norwegian Ministry of Transport and Communications and is responsible for 44 state-owned airports.


Avinor has taken a leading role in reducing climate gas emissions from the aviation industry, including the development of electric aircrafts and supplying sustainable jet-biojetfuel.


Avinor provides safe and efficient travels for around 50 million passengers annually, half of which travel to and from Oslo Airport.


Over 3000 employees are responsible for planning, developing and operating an efficient airport and air navigation service. Avinor is financed via airport charges and commercial sales.  The air navigation services is organized as ​subsidiary wholly-owned by Avinor. Avinor's headquarter is in Oslo.