Strong competition to provide tax-free retail at Avinor's airports
Norwegian firm Airport Retail Norway (ARN) and Norwegian-German firm Travel Retail Norway (TRN) are the winners of the tax-free competition for Avinor's airports. The tendering competition saw widespread international participation with strong competition among the bidders. The winning tenders are forecast to generate NOK 18 billion in revenue for Avinor over a five-year period.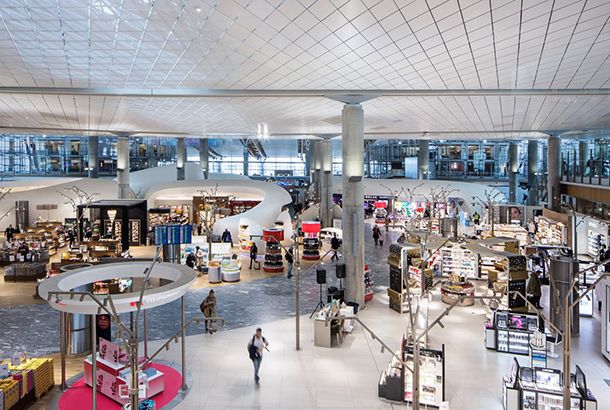 - Earnings in the tax-free retail area are important to Avinor and the operation of its Norwegian network of airports. Faced with stern competition, TRN and ARN both submitted the best tenders evaluated in terms of quality and finance. We are very pleased with the outcome of this tendering competition, and we look forward to working together with the winners, says Avinor CEO Abraham Foss.
ARN has won the contract to operate the Tax Free and Travel Value stores at the airports located in Kristiansand, Ålesund, Molde, Kristiansund, Bodø, Evenes and Tromsø.
TRN has won the competition to operate the Tax Free and Travel Value stores at the airports located in Oslo, Bergen, Stavanger and Trondheim.
The call for tenders was issued on 11 January and the deadline for submissions was 23 April. Avinor received tenders from a total of 6 bidders. The contracts will cover a five-year period from 1 January 2023 and are worth a total of NOK 30 billion.
Partners
Airport Retail Norway AS is part of Airport Retail Group, a company that runs businesses in clothing, fashion and tax-free sales, primarily in the Nordic region. Airport Retail Group is a wholly-owned subsidiary of Jotunfjell Partners AS, a private holding company registered in Norway. Among others sites, the company currently operates the tax-free store at TORP Sandefjord Airport.
Travel Retail Norway AS is jointly owned by Norse Trade AS and Gebr. Heinemann SE & Co. KG. Both are privately owned companies registered in Norway and Germany respectively. Norse Trade is jointly owned by Terje Stykket and NorgesGruppen.
Both ARN and TRN have been Avinor partners for many years.
Further details about the winning tenders
Summary of Airport Retail Norway AS's winning tender: The bidder presented a simple and cost-effective concept, adapting its operations at smaller airports. Stores will be upgraded to feature new elements allowing for local customisation. The bidder demonstrated a clear pricing strategy that meets Avinor's expectations in relation to cost savings for customers. The bidder met Avinor's expectations in digital terms, including its proposed click and collect solution.
Summary of Travel Retail Norway AS's winning tender: The bidder had a very good business plan focusing on building digital revenues, clearly specified with ambitious targets. The concept is clear, attractive and flexible, with a holistic strategy that will seek to increase customer share. The concept met all expectations in terms of price savings. Highly efficient logistics solution and short delivery times for click and collect orders. Dedicated warehouse for Norwegian e-commerce. Excelled with its emphasis throughout on sustainability and specific environmental initiatives.
The Public Procurement Act
Avinor has carried out this procurement process in accordance with the Public Procurement Act and the Regulations on Concession Contracts. The project has adhered to key principles concerning equal treatment/non-discrimination, predictability and transparency/openness throughout the tendering process. An integrity due diligence (IDD) process has been carried on both TRN and ARN, as well as all other participants in the competition. No facts of significance to the award of the contracts were uncovered.
In 2019, revenue from Tax Free stores represented 28% of total revenues from airport operations and amounted to NOK 2,904 million. The Travel Value stores have annual revenues of around NOK 80 million.
The customary 10-day appeals window will apply prior to the final award of the contracts.
Kontakter
Press service for journalists
We do not answer inquiries between 2100 and 0630 unless there is a critical incident. For info regarding flights - see avinor.no and choose airport.

Tel:
+47 918 15 614
presse@avinor.no
Om The Avinor Group

The Avinor Group
Dronning Eufemias gate 6
0191 Oslo
+47 67 03 00 00
https://avinor.no/en/corporate/about-us/the-avinor-group/about-the-company
Avinor is a wholly-owned state limited company under the Norwegian Ministry of Transport and Communications and is responsible for 44 state-owned airports.


Avinor has taken a leading role in reducing climate gas emissions from the aviation industry, including the development of electric aircrafts and supplying sustainable jet-biojetfuel.


Avinor provides safe and efficient travels for around 50 million passengers annually, half of which travel to and from Oslo Airport.


Over 3000 employees are responsible for planning, developing and operating an efficient airport and air navigation service. Avinor is financed via airport charges and commercial sales.  The air navigation services is organized as ​subsidiary wholly-owned by Avinor. Avinor's headquarter is in Oslo.