STIHL cuts carbon emissions and publishes 2022 Sustainability Report
In 2022, STIHL cut its direct carbon emissions (Scope 1 and 2) by a substantial margin compared to the prior year.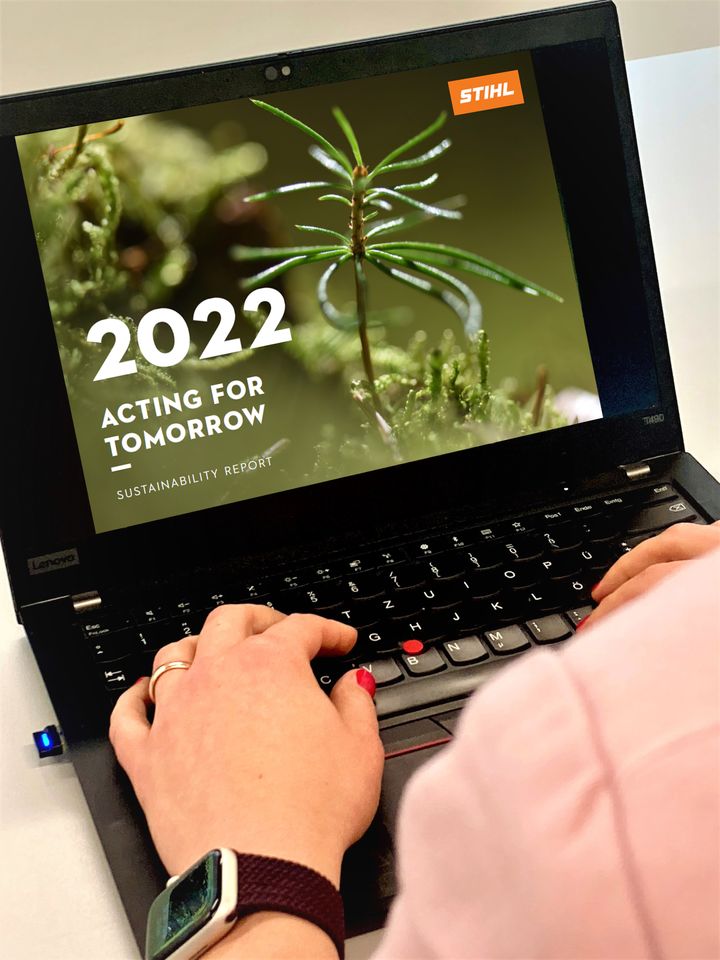 Waiblingen, Germany 25.05.2023
As detailed in the family-owned company's 2022 Sustainability Report (https://sustainabilityreport.stihl.com/2022/), which it published on May 25, the 43 percent decline was primarily due to the conversion of the STIHL production companies worldwide to green electricity.
STIHL has launched a variety of initiatives that are allowing it to live up to its responsibility in terms of sustainability. Switching to green electricity is a first step. By 2030, for example, STIHL intends to reduce the consumption of natural gas and oil by 40 percent Group-wide compared to 2019. To this end, the Group has identified more than 100 individual measures worldwide, with a special focus on technological advancements. In order to mitigate emissions from upstream and downstream value chains as well (Scope 3), product environmental footprints that will determine the ecological footprint in CO2 equivalents in every life-cycle phase have been drawn up for initial product groups.
Circular products and less plastic
In line with the goal of circularity, the company aims to enhance its products to make them as circular as possible. To this end, it launched a pilot project in late 2022 to investigate the potential of a clearing saw that is fully circular. Projects to reduce plastic packaging and carbon emissions have also been initiated. One of them focuses on converting mowing head packaging from plastic to solid and corrugated fiberboard, which could help save more than 100 metric tons of plastic by the end of 2023.
Sustainable supply chains
With sustainability also set to play a pivotal role in supplier management going forward, STIHL has expanded the main purchasing criteria (price, quality, and logistics) to include sustainability-oriented aspects. One of the additional measures is a risk exposure analysis of all suppliers that classifies suppliers into different risk categories and acts as a basis for the necessary preventive measures. For greater transparency and sustainability, STIHL has also started analyzing potentially critical supply chains as a whole. The current focus is on magnesium, cobalt, and textiles.
"Through our sustainability activities, we hope to make a positive contribution to climate change mitigation, work more resource-efficiently, and continue ensuring fair working conditions in order to keep making it easier for people to work in and with nature going forward," says Dr. Michael Prochaska, STIHL Executive Board member for Human Resources and Legal Affairs, who is also in charge of sustainability at the Group.
The STIHL Sustainability Report for 2022 is available at https://sustainabilityreport.stihl.com/2022/.
This press release and pictures are available for downloading from the STIHL website at https://www.stihl.com/press.aspx.
Contact:
Dr. Stefan Caspari
Head of Corporate Communications and Public Relations
Phone: +49 - (0) 7151/26-1402
E-Mail: stefan.caspari@stihl.de
About news aktuell GmbH
news aktuell, a subsidiary of the Deutsche Presse-Agentur (dpa), provides companies, institutions and associations with effective access to both the media and consumers and supports the organizations in telling their stories easily and successfully. Utilizing the digital tools "ots" and "zimpel" PR content reaches all media formats, including classic print titles, wide-reach online portals or social networks. In addition, news aktuell publishes all of its clients' PR content on www.presseportal.de, one of Germany's widest-reaching PR portals. Thus, all relevant multipliers are reached worldwide, ranging from editors and digital influencers to specialist bloggers and interested consumers. Communications specialists from all over Germany rely on the expertise of the dpa subsidiary. news aktuell has been on the market since 1989 and employs over 135 people. The company is based in Hamburg. Further locations include Berlin, Frankfurt and Munich.