SpareBank 1 making a strong commitment to Norway's leading car subscription company
Fleks, the car subscription company, has attracted new investors in a private placement that values the company at around NOK 700 million. SpareBank 1 is the largest participant in the placement with an investment of NOK 255 million. Fleks is owned by Bertel O. Steen and currently has 500 cars in its fleet. The plan for the next two years is to expand to more than 6,000 cars.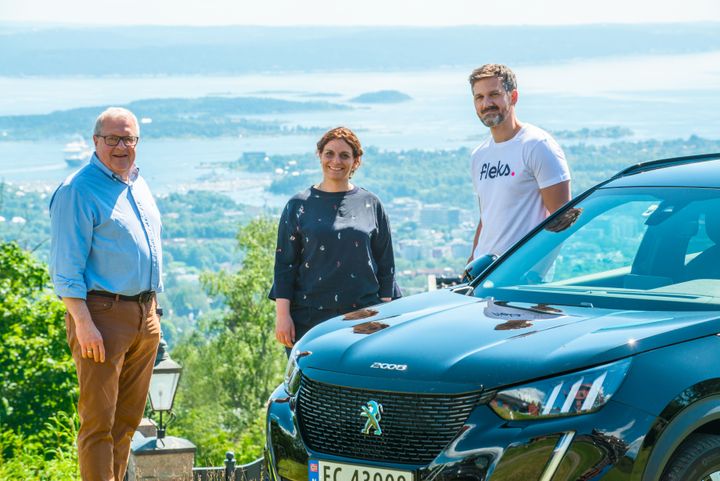 With an ownership interest of 47.2 percent each, the agreement makes SpareBank 1 and Bertel O. Steen equal owners of Fleks. Investors Strømstangen and NWT Media are also participating in the placement, and along with the company's management will represent the remaining ownership interests in Fleks.
'We're truly delighted that SpareBank 1, Strømstangen and NWT Media are joining the Fleks team. This provides Fleks with a strong and long-term ownership constellation that focuses on technology, innovation and customer-oriented solutions. 'Fleks holds ambitious plans for the future, and this agreement lends the company the added strength and resources that will be important for developing car subscription services,' says Simona Trombetta, Director Dealer Development in Bertel O. Steen and board chair in Fleks.
A tech company undergoing strong growth
Fleks originated in Bertel O. Steen and is currently the fastest-growing company of its kind in Norway. The company currently has more than 20,000 registered users of its service. Fleks is based on an internally developed technology platform with strong growth and scaling potential.
'We are seeing a rapid growth in interest in car subscriptions, and that more and more people are considering this form of car ownership. Fleks has already doubled the number of cars in its fleet in the space of only six months, and the market potential is huge. The next phase now will be to expand in other cities such as Stavanger, Bergen, Trondheim, Tromsø and Kristiansand,' says Petter Kjøs Utengen, founder and CEO of Fleks.
Simplifying people's everyday finances
Rune G. Surland is board chair of the SpareBank 1 alliance's own mobility initiative, SpareBank 1 Mobilitet. He is extremely pleased with the deal and says that the car subscription fits well with SpareBank 1's own initiative.
'We're constantly working on finding ways to make everyday finances easier for our customers. Car ownership is a key part of many people's daily life, and a significant expense item. That's why we also want to offer new and helpful solutions in this area. Ownership in Fleks creates many new and exciting opportunities which we look forward to exploring,' says Surland.
'SpareBank 1's customers visit the online back more than 30 million times monthly. This platform will be a natural starting point for innovation and development in cooperation with Fleks.'
Makes sense environmentally – and financially
Norway holds high ambitions for electrification of the country's vehicle fleet. The Norwegian Government's aim is that by 2025 all new passenger cars and light-duty commercial vehicles sold will be zero-emission vehicles. Sustainability is also a key component in Fleks' initiative and platform.
'Today, 70 per cent of our car fleet is electric. By 2023, 95 per cent of the cars on the platform must be electric,' says Utengen.
'And it's not only the cars that will generate fewer emissions; the model itself is also more sustainable,' he explains.
'A flexible form of car ownership where you have access to a car when you need it means that fewer people will need to own their own car. This is good news for the environment and for people's personal finances,' says Utengen.
Sustainability was a critical factor in SpareBank 1's decision to invest in Fleks.
'SpareBank 1 wants to promote sustainable local communities all around the country, and is working on reducing emissions. The sharing economy and electrification of the car fleet are important contributions in this respect,' says Surland.
Facts:
The actual transaction will be executed in the middle of July in the form of a private placement in Fleks worth a total of NOK 290 million.
SpareBank 1 is investing NOK 255 million, distributed equally among SpareBank 1 Finans Østlandet, SpareBank 1 Finans Midt-Norge and SpareBank 1 Nord Norge. In addition, SpareBank 1 Mobilitet, valued at NOK 74 million, will be transferred to Fleks in a consolidated initiative under a common brand.
Once the transaction is completed, the abovementioned SpareBank 1 companies will own 47.2 per cent of the shares in Fleks. Bertel O. Steen will retain a corresponding ownership interest. Investors Strømstangen and NWT Media will also participate in the placement. They, along with the management in Fleks, will own the remaining shares.
Fleks will be valued at around NOK 700 million after the placement.
The transaction facilitators are Arctic Securities and SpareBank 1 Markets, with Selmer law firm as legal adviser.
Facts about Fleks:
Fleks is Norway's leading car subscription company with 1,500 cars and over 20,000 registered users. The company was established in 2019 as part of Bertel O. Steen's strategic ambitions within mobility services. The company has grown rapidly to a leading position in Norway in its category, with a strong concept and satisfied customers. Fleks is based on an internally developed technology platform with strong growth and scaling potential. The company has great ambitions and plans for strong growth in several geographies in the future.
Points of contact:
Rune Georg Surland, Board Chair, SpareBank 1 Mobilitet – tel. +47 908 22 980
Petter Kjøs Utengen, CEO, Fleks – tel: +47 930 54 645
Simona Trombetta, Director Dealer Development, Bertel O. Steen, tel. +47 911 00 984
Om Bertel O. Steen
Bertel O. Steen
Solheimveien 7
1461 Lørenskog
67 92 60 00
https://www.boskonsern.no/
Bertel O. Steen importerer bilmerkene Mercedes-Benz, Kia, Peugeot, Citroën, DS, Opel, smart®, Setra og Fuso til Norge. Hovedtyngden av salget skjer gjennom vår egeneide forhandlerkjede.
Bertel O. Steen Eiendom AS med datterselskaper forvalter en betydelig eiendomsportefølje på ca. 175 000 m2 knyttet til bil og annen næringsvirksomhet. Konsernet eier også Snap Drive AS, en frittstående verkstedkjede med 26 verksteder lokalisert i de største byene i Norge.
Bertel O. Steen ønsker å ta en ledende rolle i den store transformasjonen som bilbransjen er inne i, og å bidra til utviklingen av morgendagens mobilitetsløsninger. Våre ca. 2 600 medarbeidere leter alltid etter nye løsninger – til det beste for kundene våre og samfunnet.