Schibsted releases Future Report 2021
"I am proud every year this report comes out, but perhaps a bit extra proud this year. We are all under immense pressure in several ways, yet I see much hope for the future when I see the many exciting opportunities and competence that people at Schibsted represent," says Kristin Skogen Lund, CEO at Schibsted.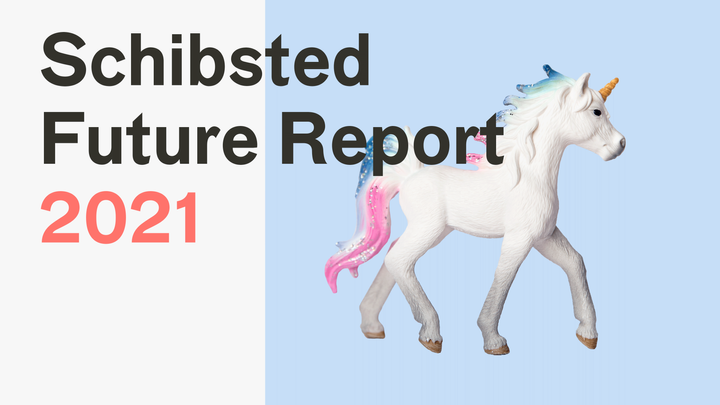 The Schibsted Future Report is the company's annual outlook on important trends within tech, people and business. It's written by Schibsted employees who share ideas and insights regarding topics they believe will have an impact on our world in the coming years.
"In Schibsted we believe that being open and having discussions is more important than ever. In times of crises, it is easy to see the importance of trusted and fact-based news. It is also easy to see the need for boldness and change. We want to keep making bold moves and continue being a force for change and empowerment in people's lives. That is also why we believe in looking around the corner and sharing new perspectives," adds Skogen Lund. 
Covid and beyond
This year, a portion of the report is reserved for Covid-19 and its impact on society. We look back to see the ways in which major crises have changed the world historically, how Covid has pushed digitalisation and what new challenges leaders face because of it.
"Schibsted always looks one step ahead, giving our readers the opportunity to get new perspectives on Tech, Business and Strategy and introducing you to some of the inspiring people behind our businesses. We also look beyond the pandemic to explore the next AI-challenges, what makes startups succeed, and how tech might be a gamechanger in farming -  and a lot more," says Ann Axelsson, Editor-in-chief, Future Report.
Here is a sneak peek into some of the many articles you can see in the Future Report:
How crises disrupt and evolve society
Schibsted's top ten tech trend-list
Welcome to the synthetic decade
Leaders under pressure
How subscriptions drive new businesses
Photographers on the frontline of the Corona pandemic grab the readers' hearts
For more information
Read the full Schibsted Future Report 2021 here, or visit the future report website: futurereport.schibsted.com
Also, stay tuned on our digital channels for our Future Report webinars to be launched in 2021.
Contact information:
Ann Axelsson, Editor-in-Chief Future Report, Schibsted
ann.axelsson@schibsted.com / +46 70 635 65 13

Nathalie Kåvin, Head of External Communications and Brand, Schibsted, nathalie.kavin@schibsted.com / +47 934 01 363
About Schibsted

Schibsted
Akersgata 55
0180 Oslo
https://schibsted.com/
Schibsted is a family of digital consumer brands with a strong Nordic position, and more than 5,000 employees on a mission to empower people in their daily lives. Millions of people interact with our companies every day through our leading online marketplaces such as FINN in Norway and Blocket in Sweden, world-class media houses including Aftenposten, VG and Aftonbladet, and digital services that empower consumers, represented by companies such as Lendo. We also help new promising businesses realize their potential.
Schibsted has the mindset of a start-up and the heart of an established company that has stood on its own feet since 1839. In 2019, Adevinta – Schibsted's international marketplaces – was spun off and publicly listed on the Oslo Stock Exchange as a separate company.
Subscribe to releases from Schibsted
Subscribe to all the latest releases from Schibsted by registering your e-mail address below. You can unsubscribe at any time.
Latest releases from Schibsted
In our pressroom you can read all our latest releases, find our press contacts, images, documents and other relevant information about us.
Visit our pressroom