Schibsted presents Future Report 2022
It's that time of the year. Our annual outlook on key trends within tech, people and business, written by our own employees, is finally here.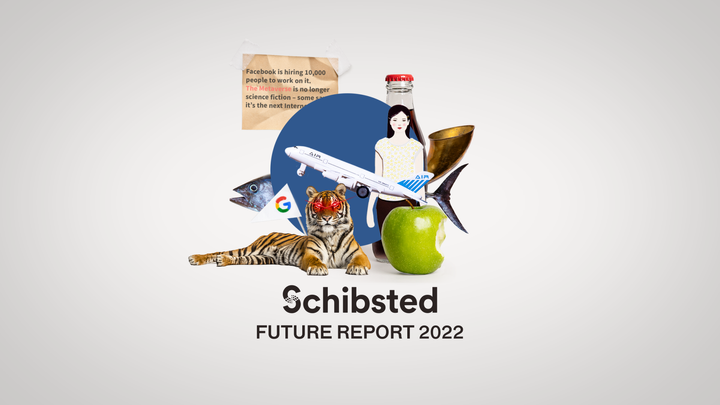 "Today, after 180 years of entrepreneurship, innovation and investments, Schibsted has grown into a family of strong brands ranging from media houses to online marketplaces, digital growth businesses, and startup investors. We still carry with us both the values of our media heritage and that desire to branch out, go for growth, rethink and reinvent ourselves," says Schibsted CEO, Kristin Skogen Lund.

In Schibsted Future Report 2022, Schibsted reveals predictions and key trends related to tech, business and people. It's written by employees who share ideas and insights regarding topics we believe will have an impact on our world in the coming years. This year, the report covers themes spanning from the metaverse to diversity, from venture capital tigers to the war for talent.

"It is also our media heritage that inspires the Schibsted Future Report. This annual outlook on trends within tech, people and business is written by our own people and we truly believe that sharing ideas and being transparent is a foundation for democracy," adds Skogen Lund.

Schibsted Future Report Trends 2022

Watch our digital launch - Venture investments in the year of the tiger
The webinar, which will be streamed live this morning at 08.30 a.m, will be hosted by Aftenposten Junior Editor-in-Chief Mari Midtstigen. Dan Ouchterlony, Head of Financial Services and New Ventures, will talk about the year of the tiger and how the developments in the VC world affect investment businesses and entrepreneurs, and what that means for a player like Schibsted. We'll also welcome Andrew Kvålseth, Chief Investment Officer, and Christian Horn Hanssen, Lead Investment Manager, on to the screen to discuss what Schibsted is looking for in their investments.
"This year's report has some really interesting themes and the articles will hopefully be a starting point for many discussions. As always I am very proud of all the clever colleagues who have contributed and the fact that Schibsted shares these thoughts and ideas," says Ann Axelsson, Editor-in-Chief, Schibsted Future Report.
Read more about the digital event here.

For more information:
Stay tuned in our digital channels for more Future Report digital events in 2022.
Contact information:
Ann Axelsson, Editor-in-Chief Schibsted Future Report, Schibsted,
ann.axelsson@schibsted.com, +46 70 635 65 13

Nathalie Kåvin, Head of External Communications and Brand, Schibsted, nathalie.kavin@schibsted.com, +47 934 01 363
About Schibsted

Schibsted
Akersgata 55
0180 Oslo
https://schibsted.com/
Schibsted is a family of digital brands with a strong Nordic position, and more than 5,000 employees. Millions of people enjoy interacting with our companies every day through our online marketplaces such as FINN, Blocket and Oikotie; our media houses including Aftenposten, VG and Aftonbladet; and digital services like Lendo. We also help new promising businesses grow. Our joint mission of empowering people in their daily lives is rooted in the values of our media heritage and a legacy of bold change. At our best, we are a fearless force for change in a society built on trust and transparency.
Schibsted is listed on Oslo Børs and has a sizable investment in Adevinta, a company that was spun off and publicly listed as a separate company on Oslo Børs in 2019