Schibsted acquires Denmark's biggest online marketplace for skilled trades
Schibsted currently owns the Mittanbud online marketplace in Norway and Servicefinder in Sweden, and is now expanding to Denmark through its acquisition of 3byggetilbud.dk.
3byggetilbud.dk is Denmark's biggest service platform, and since its launch in 2000 it has advertised hundreds of thousands of building projects to a nationwide network of skilled tradespeople.
A perfect match
"3byggetilbud.dk is a truly exciting and solid platform. They have long experience in advertising renovation projects from consumers to skilled tradespeople, and have a strong position in Denmark. I see them as a perfect match for Schibsted, and look forward to continuing our journey together with their talented people in Copenhagen and Århus," says Håvard Bungum, CEO of Schibsted Norge SMB, which also owns Mittanbud.
Last year 3byggetilbud.dk advertised over 70,000 projects to Danish skilled tradespeople. Bungum believes this figure will increase in the coming years, and that the acquisition will also have a positive effect for Mittanbud.
"We will draw on our experience from Mittanbud to further develop 3byggetilbud, especially on the tech side and data use, where we have a lot to offer. But I also have high expectations of how much we can learn about how 3byggetilbud works, and that this will help Mittanbud provide an even better service to Norwegian skilled tradespeople and consumers looking to renovate," says Bungum.
Happy to continue the journey with Schibsted
"Our most important task in Denmark will be to continue the great work being done today. We will help skilled tradespeople who are already linked up with 3byggetilbud win more projects, and make the product even better and more attractive," says Bungum.
Martin Borgstrøm, the founder of 3byggetilbud.dk, is delighted about having sold the service he established in 2000 to Schibsted.
"Naturally we're incredibly proud and happy to be continuing our journey together with Schibsted. At 3byggetilbud.dk we've always done things our own way. We're one of the first services of our kind in Europe, and I'm proud of where we are today," says Borgstrøm.
Contact information:
Martin Frich Grevstad
Communications Manager, Schibsted Norge SMB
Mobile: +47 91391244
E-mail: martin.grevstad@schibsted.com

About 3byggetilbud.dk

In 2021 3byggetilbud.dk advertised over 70,000 building projects in Denmark, and has 65 employees in offices located in Copenhagen and Århus. 3byggetilbud.dk's network consists of approximately 1,700 suppliers who combined generate revenues estimated at between DKK 2 billion and 3 billion through its platform. 3byggetilbud.dk was founded in 2000 by Martin Borgstrøm and had a turnover of approximately DKK 56 million in 2021.
Images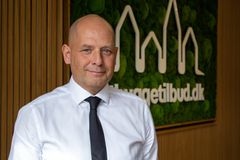 About Schibsted

Schibsted
Akersgata 55
0180 Oslo
https://schibsted.com/
Schibsted is a family of digital brands with a strong Nordic position, and about 6,000 employees. Millions of people enjoy interacting with our companies every day through our online marketplaces such as FINN, DBA, Blocket and Oikotie; our media houses including Aftenposten, VG, Svenska Dagbladet and Aftonbladet; and digital services like Lendo. We also help new promising businesses grow. Our joint mission of empowering people in their daily lives is rooted in the values of our media heritage and a legacy of bold change. At our best, we are a fearless force for change in a society built on trust and transparency.
Schibsted is listed on Oslo Børs and has a sizable investment in Adevinta, a company that was spun off and publicly listed as a separate company in 2019.