Rototec launches a new water handling system for geoenergy drilling; introducing RotoCont and RotoCont+
The largest geoenergy company in Europe, Rototec, is not only offering carbon neutral energy, but also works actively for the benefit of the environment. Safety has a great meaning in all of our processes in geoenergy drilling. Safe water handling complying with all the rules and regulations is an important part in taking care of our environment.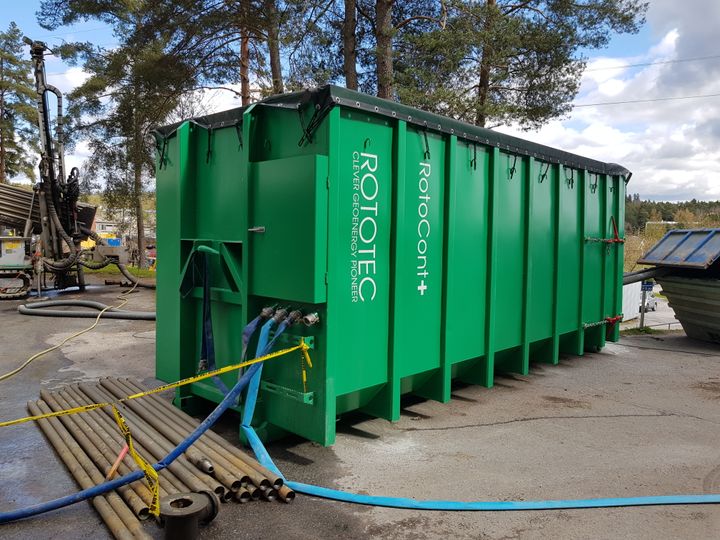 Normally water handling during geoenergy drilling is taken care of with a separation container. In addition to this Rototec is now launching a new water cleaning system which includes two new container products; RotoCont and RotoCont+ (patent pending). With the help of these two different size containers we can now offer the possibility for demanding water handling in addition to the regular water handling with a normal separation container. RotoCont and RotoCont+ are very easy to use and they can clean even large amounts of water depending on the project's needs.
"RotoCont and RotoCont+ are based on a water handling technology with partitions designed by us. This technology is desgined to separate water from even the smallest particles", describes Hannu Puolitaival, Fleet Manager, Rototec Group.
When drilling geoenergy a driller needs pressurized water from the property to tie the drilling dust. Often there can be clean but coloured water (coloured by the bedrock) coming from the well which has coloured rock dust and sand in it. Before the water is impregnated to the ground it needs to be handled in the separation container which removes rocks and dust from the water. Now it is possible to clean the water another time with RotoCont or RotoCont+ containers when demanding water handling is required and there is a need to separate all the smallest particles and turbidity off.
"Protecting the environment and climate is very important to us, and we do everything we can when when it comes to our work. Carbon neutral geoenergy is already decreasing CO2 emissions, but we are also engaged in other environmental issues, such as careful water handling. We have always made sure we comply with all regulations and standards when it comes to water handling. On top of this, we can now also offer extra demanding water handling", says Alexej von Bagh, CEO, Rototec.
More information on our new RotoCont and RotoCont+ container products and their sizes can be found on our country specific websites:
Sweden: https://rototec.se/vattenhantering-med-rotocont/
Norway: https://rototec.no/handtering-av-vann-med-rotocont/
Finland:https://rototec.fi/vedenkasittely-rotocont-tuotteilla/
Photos: https://material.rotomap.fi
Rototec
Rototec is the Europe's largest provider of geoenergy solutions and an innovative pioneer in the field. Geoenergy is renewable energy, which can be collected from the ground. With geoenergy it is possible to heat and cool properties of all sizes. Rototec's comprehensive concept covers the whole process from consulting and design of energy systems to their implementation. Rototec Group was established in 2007 and the company operates in Scandinavia. The revenue of the company in 2020 was approx. 51 million euros. www.rototecgroup.com
Subscribe to releases from Rototec
Subscribe to all the latest releases from Rototec by registering your e-mail address below. You can unsubscribe at any time.
Latest releases from Rototec