Reductions in traffic and provisions weaken second quarter result
Avinor's operating income during the second quarter was NOK 3 billion. The group had a loss after ta of NOK 406 million, compared with a profit of NOK 183 million in the corresponding period in 2018.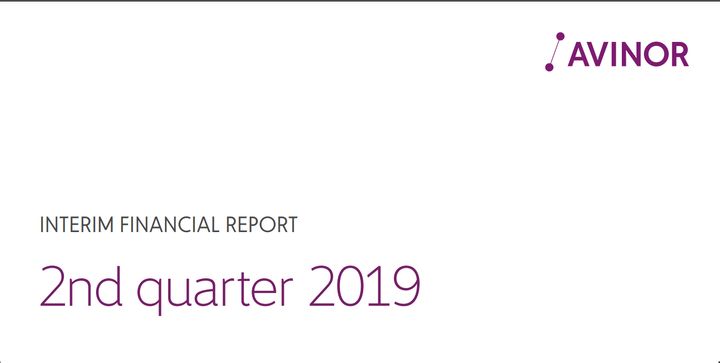 'We are very satisfied with operations at Avinor's airports during Q2, even if reductions in traffic have had an impact on Avinor's income,' says Managing Director Dag Falk-Petersen.
The Group's consolidated operating revenues totalled NOK 3,010 million in the second quarter of 2019, which was a reduction of 1.4 per cent from last year. This reduction was mainly a result of less traffic due to seasonal effects related to Easter, which fell during the second quarter of 2019 in addition to the impact of the SAS pilot strike during April/May.
Provisions for environmental cleanup
Earlier, Avinor used various types of per- and polyfluoroalkyl substances (PFAS) in fire-extinguishing foam in its firefighting exercise areas. Avinor phased out use of the most infamous substance (PFOS) in 2001, prior to strict regulations of the substance being introduced. All use of PFAS was stopped by 2012. The Norwegian Environment Agency has stipulated that Avinor must survey and assess environmental contaminants at its firefighting exercise areas.
During the second quarter of 2019, Avinor allocated NOK 871 million in isolation to cover any future cleanup costs related to environmental contaminants at Avinor's firefighting exercise areas. This provision was made on the basis of a preliminary calculation. A final decision has not been taken by the Norwegian Environment Agency about the extent of the cleanup, which initiatives must be taken or deadlines for these.
Cost cutting continues
In June, Avinor set a target for cost reductions of at least NOK 400 million by 2021 measured against actual cost levels in 2018. The cost reductions will include airport operations, air navigation services and key staff and support functions. Airport structure and flights will not be affected by the cost reduction programme.
On 12 May 2019, Avinor handed over the operation of Haugesund Airport to Lufthavndrift AS. Avinor will continue to own the airport and has entered into a 20-year lease agreement with the local operating company. Overall, the change has had a negligible positive impact on the result recognised in the consolidated accounts.
APCOA PARKING Norge AS took over parking operations at Bergen, Stavanger and Trondheim airports from 24 June 2019, after Sesam Parkering AS petitioned for bankruptcy earlier in the spring. A temporary agreement relating to parking operations ensures that the public and employees are not affected by the bankruptcy. The interim agreement will apply until the end of 2019.
Contacts
Press contact numberPress service for journalists
Travellers are adviced to call our passenger service at +47 915 06 400
+47 918 15 614
About The Avinor Group

The Avinor Group
Dronning Eufemias gate 6
0191 Oslo
+47 67 03 00 00
https://avinor.no/en/corporate/about-us/the-avinor-group/about-the-company
Avinor is a wholly-owned state limited company under the Norwegian Ministry of Transport and Communications and is responsible for 44 state-owned airports.


Avinor has taken a leading role in reducing climate gas emissions from the aviation industry, including the development of electric aircrafts and supplying sustainable jet-biojetfuel.


Avinor provides safe and efficient travels for around 50 million passengers annually, half of which travel to and from Oslo Airport.


Over 3000 employees are responsible for planning, developing and operating an efficient airport and air navigation service. Avinor is financed via airport charges and commercial sales.  The air navigation services is organized as ​subsidiary wholly-owned by Avinor. Avinor's headquarter is in Oslo.