Presentation of fourth quarter 2020 results followed by a company strategy update session
(Oslo, January 25, 2021) StrongPoint ASA invites investors, analysts and journalists to the presentation of its fourth quarter 2020 financial results and a strategy update session on February 11, 2021: Retail Technology in a COVID-19 world – how technology continues to be the key to scaling e-commerce and making stores more efficient and profitable. The speakers will be Jacob Tveraabak, StrongPoint CEO and Hilde Gilen, StrongPoint CFO.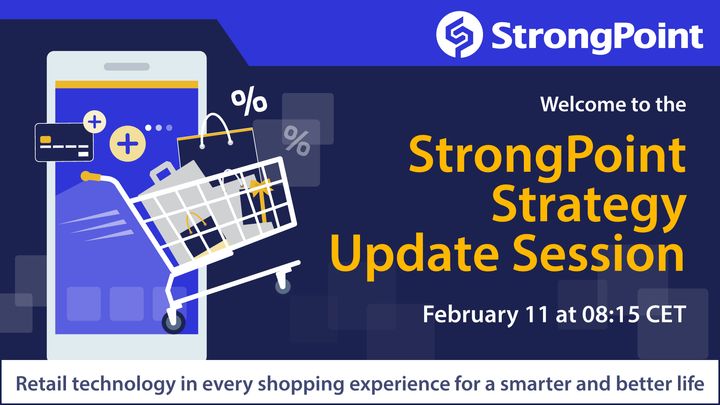 Event details:
Time – 08.15 CET 
Streaming details for the fourth quarter 2020 financial results presentation and strategy update session, click here
The fourth quarter 2020 financial results presentation and the presentation for the strategy update session will be announced at 07:00 CET 11 February 2021 through the Oslo Stock Exchange distribution service and also be available on strongpoint.com. The event will be followed by an open Q&A session.
About StrongPoint

StrongPoint
Slynga 10
2005 Rælingen
https://www.strongpoint.com/
About StrongPoint | www.strongpoint.com​
StrongPoint is a retail technology company. We provide in-store and e-commerce solutions that make shops smarter and give better shopping experiences.
Over 5.5 million consumers use our retail technologies every day, including products such as cash management and payment solutions, lockers to handle groceries, self checkout point of sale, electronic shelf labels, in-store and warehouse picking solutions, design and manufacturing of labels, etc. StrongPoint is headquartered in Norway, with home markets in Sweden, Spain and the Baltics, and is listed on the Oslo Stock Exchange [ticker: STRO].