PM-International har donert mer enn 1,5 millioner euro til barn
PM-International AG donerer 1.51 millioner euro til hjelpe og utviklingsorganisasjonen World Vision. Selskapet har støttet barn over hele verden i nesten 20 år og er den største bedriftssponsoren for World Vision. Donasjonen vil komme selskapets 4000 fadderbarn rundt om i verden til gode i året som kommer.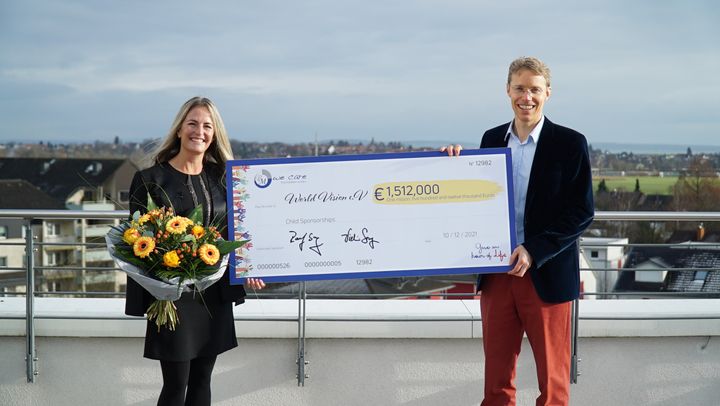 (Schengen/Friedrichdorf, Tyskland): Christoph Hilligen, administrerende direktør i World Vision Germany e.V., er stolt av dette sterke og langvarige partnerskapet: "Vi er takknemlige for at PM-International aktivt har støttet oss i så mange år. Med årets rekorddonasjon vil vi ikke bare kunne påvirke livene til 4000 fadderbarn positivt, men også styrke deres familier og lokalsamfunnet og vi kan hjelpetitusenvis av mennesker."
PM-International's Charity Ambassador Vicki Sorg lovpriset World Vision's engasjement ved overrekkelsen på det tyske hoverkvarteret i Friedrichsdorf: "Med lidenskap og drivkraft hjelper World Vision mennesker over hele verden ved å fordele donasjoner på en bærekraftig måte. Spesielt når man ser på utfordringene det siste året, er det de gjør intet mindre enn imponerende. World Vision er rett ved barnas side, og vi er takknemlige for å bidra til deres arbeid!"
Støtter 110 000 mennesker i Kambodsja og Bangladesh
PM-International er den eneste sponsoren av World Vision, som sponser regionale utviklingsprosjekter i sin helhet. Disse langsiktige områdeprogrammene, som varer i ca. 15 år, implementeres i samarbeid med lokalbefolkningen.PM-International er allerede aktiv i India, Peru og Zimbabwe.I 2022 vil selskapet overta sponsingen av ytterligere to regionale utviklingsprosjekter i Kambodsja og Bangladesh. PM-International støtter disse utviklingsprosjektene ved å sponse mer enn 1000 barn. Utviklingstiltak på stedet vil fokusere på tilgang til drikkevann, sanitæranlegg og hygiene, samt ernæringsopplæring. Omtrent 110 000 av lokalbefolkningen vil dra nytte av disse programmene.
Perspektiv: 10 000 sponsede barn
I løpet av de siste to årene har PM-International donert totalt over 4,6 millioner euro til veldedighet. For hvert FitLine-produktsom kjøpes, donerer PM-International "an hour of life" til barn. Etter hvert som selskapet vokser, øker også antall fadderbarn. Familiebedriften har satt seg som mål å øke det totale antallet fadderbarn til 10.000.– Vi ønsker å dele vår suksess på en ansvarlig måte, og med et stort mål i tankene. Hvert år gir vi tusenvis av barn muligheten til å bli å gjøre en forskjell i samfunnet sitt. Dette er mulig på grunn av støtte fra alle våre distribusjonspartnere og kunder over hele verden. Jeg er utrolig takknemlig for deres støtte, sier Vicki Sorg.
Om PM-International AG: PM-International AG er Europas største direktesalg innen helse, velvære og skjønnhet, basert i Schengen, Luxembourg.
PM-International AG ble grunnlagt i 1993 og utvikler og markedsfører førsteklasses ernæringstilskudd og hudpleie av høy kvalitet gjennom sitt eget merke FitLine®- hvorav mange har en patentert teknologi. Næringstransportkonseptet (NTC®) representerer selskapets kjernekompetanse: det leverer næringsstoffene nøyaktig når de trengs og hvor de trengs – til cellenivå, fra innsiden og ut. For å garantere en kontinuerlig høy produktkvalitet, blir produktene regelmessig og uavhengig testet av TÜV SÜD ELAB. Sluttkunder kan finne informasjon om analysen direkte på TÜV SÜD ELAB sin nettside ved å skanne QR-koden på produktemballasjen. Ingen andre konkurrenter tilbyr dette nivået av åpenhet.
Mer enn 700 millioner FitLine® produkter er solgt over hele verden. Godt over 1000 toppidrettsutøvere fra mer enn 60 disipliner og 30 nasjoner stoler på FitLine ernæringstilskudd og FitLine er offisiell leverandør til en rekke idrettsforeninger og landslag. Innenfor rammen av et unikt sportsmarkedsføringskonsept er det samarbeid med de tyske, østerrikske, polske og kanadiske skiforeningene (DSV, ÖSV, PZN, ACA), det tyske ishockeyforbundet (DEB), Føderasjonen av tyske syklister (BDR), det tyske friidrettsforbundet (DLV), det sveitsiske forbundet (inkludert bobsleigh), det sveitsiske håndballforbundet (SHV) og flere.

Ytterligere informasjon finner du på : www.pm-international.com
Om news aktuell GmbH

news aktuell GmbH
Mittelweg 144
20148 Hamburg
+49 (0)40 4113-32589
http://www.newsaktuell.de
As wholly owned subsidiary of dpa, news aktuell provides business and organizations with effective access to media and consumers. Via the smart tools ots and zimpel, PR content accesses all media formats, including classical print, high click-rate online portals and social networks. In addition, news aktuell publishes all its customers' PR content on www.presseportal.de, one of the PR portals with the greatest reach in Germany. By this means, all the relevant multipliers are reached globally, from editors, via digital influencers right up to specialist bloggers and interested consumers. news aktuell has been on the market since 1989. The company, with a staff complement of more than 135, has its headquarters in Hamburg. Other offices are in Berlin, Dusseldorf, Frankfurt und Munich.