MAAG Music & Arts AG: World premiere: Viva Frida Kahlo – Immersive Experience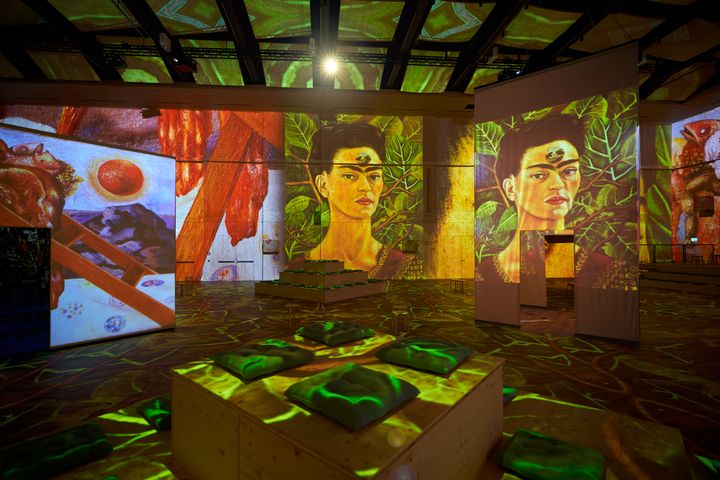 (Zurich, Switzerland): The first museum for immersive art in Switzerland is opening with a world premiere: Viva Frida Kahlo – Immersive Experience. The preparations for this immersive enactment of the life and work of Frida Kahlo have been two years in the making. The exhibition will be unveiled on 22 September at the new Lichthalle MAAG in Zurich. It will be the first time that the life and work of the iconic Mexican artist will be presented in an immersive format outside of Mexico.
Kahlo's expressive paintings, with their accessible symbolism and colourful, exotic plants and animals, as well as her powerful self-portraits, are the perfect templates for an immersive presentation with video projections and light and sound effects. Visitors will experience Frida Kahlo's life and work on a completely new level via panoramic projection.
"Viva Frida Kahlo – Immersive Experience" offers an insight into the tragic life of the Mexican artist and her creations. Her pictures come to life in the projections, while a voice-over playing the role of Frida Kahlo comments on the events and a specially composed soundtrack paints the presentation's acoustic background. The new Lichthalle MAAG uses high-performance projectors to project images onto walls, columns, ceilings and floors up to 10 metres tall and 34 metres wide, making for a breath-taking 360° experience.
Viva Frida Kahlo – Immersive Experience
Date/venue: 22.09.2021–02.01.2022, Lichthalle MAAG, Zurich, Switzerland
More information: www.vivafridakahlo.com
Contact: MAAG Music & Arts AG, PR & Communications, Christoph Rüdt, christoph.ruedt@bmaag.ch
About news aktuell GmbH

news aktuell GmbH
Mittelweg 144
20148 Hamburg
+49 (0)40 4113-32589
http://www.newsaktuell.de
As wholly owned subsidiary of dpa, news aktuell provides business and organizations with effective access to media and consumers. Via the smart tools ots and zimpel, PR content accesses all media formats, including classical print, high click-rate online portals and social networks. In addition, news aktuell publishes all its customers' PR content on www.presseportal.de, one of the PR portals with the greatest reach in Germany. By this means, all the relevant multipliers are reached globally, from editors, via digital influencers right up to specialist bloggers and interested consumers. news aktuell has been on the market since 1989. The company, with a staff complement of more than 135, has its headquarters in Hamburg. Other offices are in Berlin, Dusseldorf, Frankfurt und Munich.