Lantmännen og Yara leder an mot verdens første fossilfrie verdikjede for matproduksjon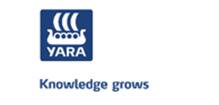 Stockholm, Sverige & Oslo, Norge, 13. september 2019: Lantmännen og Yara tar rollene som pionerer i omleggingen av matsystemet og etablerer et pilotprosjekt med ambisjon om å introdusere verdens første sertifiserte fossilfrie verdikjede for matproduksjon. Prosjektet vil gjøre forbrukere i stand til å redusere sitt klimaavtrykk ved å velge mat med lavere karbonutslipp.


Omstillingen mot en fossilfri verdikjede starter med jorden. Plantenæring, som er viktig for å sikre utbytte og kvalitet, vil spille en nøkkelrolle i overgangen til en mer klimavennlig matproduksjon. Samarbeidet bygger på Yaras annonserte pilotprosjekt for å bruke fornybar energi til å fremstille mineralgjødsel, og har som ambisjon å redusere karbonavtrykket til Lantmännens sluttprodukter. Gjødselen, som Yara tar sikte på å introdusere i markedet innen 2022, vil redusere den totale karbonavtrykket fra kornproduksjon med 20 prosent.

–  Lantmännen har lenge arbeidet systematisk for å utvikle bærekraftige løsninger på mange områder, ikke minst når det gjelder kultiveringsmetoder og konsepter. Allerede i dag ligger nordiske bønder langt fremme på bærekraft, med lav klimapåvirkning etter internasjonale standarder. Med dette partnerskapet, som er et av våre viktigste initiativer til nå, tar vi ytterligere skritt mot en fossilfri næringskjede og et enda mer bærekraftig landbruk, sier Per Olof Nyman, Group President & CEO i Lantmännen.


Bruk av fornybar energi i mineralgjødselproduksjon vil øke produksjonskostnadene og ha innvirkning på matvareprisene. Ved å samarbeide tett med hele verdikjeden er ambisjonen å minimere tilleggskostnaden for forbrukeren.

– Dette partnerskapet er det første steget mot å omstille hele matsystemet. Pilotprosjektet med Lantmännen vil forene partnere i verdikjeden i en felles innsats for å redusere karbonavtrykket i matproduksjon. Vi må se på nye forretningsmodeller som dekker hele verdikjeden for matproduksjon - fra jord til bord. En bærekraftig og fossilfri næringskjede er bare mulig med mineralgjødsel laget med fornybar energi, sier Svein Tore Holsether, Group President & CEO i Yara.


Lantmännen og Yara tar sammen det første skrittet for å transformere matproduksjonen og oppfordrer alle andre selskaper i verdikjeden til å bidra.


Om Lantmännen
Lantmännen er et landbrukskooperativ og ledende i Nord-Europa innen landbruk, maskiner, bioenergi og matproduksjon. Lantmännen er eiet av 25 000 svenske bønder, har 10 000 ansatte, opererer i mer enn 20 land og har en årlig omsetning på SEK 45 mrd (omtrent EUR 4,3 mrd). Med korn i hjertet av driften, foredler selskapet dyrkbare landressurser for å få jordbruket til å trives. Noen av Lantmännens mest kjente matvaremerker er AXA, Bonjour, Kungsörnen, GoGreen, Gooh, FINN CRISP, Schulstad og Vaasan. Vårt firma er basert på kunnskapen og verdiene til generasjoner av bønder. Med forskning, utvikling og drift i hele verdikjeden tar vi sammen ansvar fra jord til bord. For mer informasjon: www.lantmannen.com


Om Yara
Yara dyrker kunnskap for å fø verden og beskytte planeten, for å oppfylle visjonen om et samarbeidende samfunn, en verden uten sult og med respekt for planeten. For å oppfylle disse forpliktelsene leder selskapet an i å utvikle digitale verktøy for presisjonslandbruk og samarbeider tett med partnere gjennom hele næringens verdikjede for å utvikle mer klimavennlige løsninger. I tillegg er selskapet opptatt av å jobbe for bærekraftig mineralgjødselproduksjon. Yara fremmer en åpen kultur for mangfold og inkludering som styrker sikkerheten og integriteten til våre ansatte, leverandører, forretningspartnere og samfunnet for øvrig. Yara ble grunnlagt i 1905 for å løse den eksallerende hungersnøden i Europa, og har en verdensomspennende tilstedeværelse med rundt 17 000 ansatte og operasjoner i over 60 land. I 2018 rapporterte Yara omsetning på 12,9 milliarder dollar.
www.yara.com


For mer informasjon, vennligst kontakt: 

Lantmännen:

Claes Johansson, Head of Sustainable Development at Lantmännen
Telefon: +46 10 556 10 05
Epost: claes.johansson@lantmannen.com
Lantmännen Press Office
Telefon: +46 10 556 88 00
Epost: press@lantmannen.com


Yara:
Ellen Cathrine Rasmussen, VP Sustainability Programs & Global Projects
Telefon: +47 97 756 518
Epost: ellen.cathrine.rasmussen@yara.com

Josiane Kremer, Director External Communications
Telefon: +47 481 80 451
Epost: josiane.kremer@yara.com


Om GlobeNewswire
GlobeNewswire
One Liberty Plaza - 165 Broadway
NY 10006 New York
https://globenewswire.com
GlobeNewswire is one of the world's largest newswire distribution networks, specializing in the delivery of corporate press releases financial disclosures and multimedia content to the media, investment community, individual investors and the general public.