Invitation to dialogue conference on baggage handling
Avinor Oslo Airport is now looking for innovative suppliers who can help develop solutions for more efficient baggage handling between the baggage hall and the aircraft.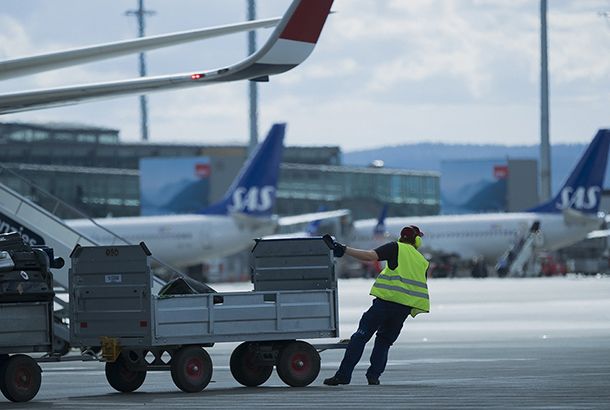 The dialogue conference was held on June 17th. Please contact wilhelm.otnes@avinor.no if you did not have the chance to register, but still want to be informed about the process ahead through end of 2020 towards prequalification and tender.

The current processes that take the departing baggage from the baggage hall to the aircraft, and the arriving bag from the aircraft to the baggage hall, are mainly based on manual lifting and manual driving. It is a time-consuming, expensive process that to a large extent has been unchanged for 50 years. Avinor ambitions is to automate these processes as far as possible.
Large costs associated with today's system
The airlines spend significant amounts per year on baggage handling services at Oslo Airport. About 50 percent of these costs are related to the processes between the baggage hall and the aircraft.
- Automated baggage handling will bring significant benefits to airlines, handling agents, Avinor and other professional groups working with heavy manual work today. Improvements to this service will be useful for other airports in Avinor, as well as airports around the world, says airport manager Stine Ramstad Westby.
New baggage system at Oslo airport
The reason why Avinor is now searching for innovative suppliers is that a pre-project is underway to replace the oldest baggage system at Oslo Airport. The plant has been in operation for more than 20 years.
- The baggage system is the heart and blood vessels of the large airport body. Technical failure will have major consequences for the rest of the large machinery that keeps the airport running 24 hours a day. To ensure stable operations, 365 days a year, and at the same time provide efficient and competitive services to the airlines, it is important that Oslo Airport has a baggage facility that is modern and has a technology that is robust to handle the stresses, says Westby.
By replacing the old facility, Avinor will be able to streamline airport operations by connecting to new technology extending beyond the baggage system itself, thereby meeting airlines' expectations for efficiency and automation. An early involvement of innovative suppliers will allow Avinor to carry out a good pre-project with access to expertise about the system. This will ensure a reduction of risk and uncertainty, and at the same time provide a better basis for deciding on building decisions in 2022.
Builds own test center
Avinor Oslo Airport wants to contribute to the development of automated baggage handling and is therefore building a test center of approximately 1500 m2. Here, suppliers will be invited to test and improve new concepts, in close cooperation with handling companies and airlines. The ultimate goal is to buy and use the approved solutions in connection with the replacement of the old baggage system, with a view to production from 2025.
Own bidding process
The dialogue conference held on 17 June is web-based and is being done in collaboration with, among others, the Confederation of Norwegian Enterprise (NHO). There will be streaming of a joint session, opportunities for questions and then the opportunity for a 1:1 online meeting with suppliers who want this.
 In retrospect, Avinor will invite a pre-qualification and a subsequent tender process to be completed by the end of 2020. The final decision on which supplier (s) is chosen to automate the baggage processing process between the baggage hall and the aircraft is expected in 2022.
About The Avinor Group

The Avinor Group
Dronning Eufemias gate 6
0191 Oslo
+47 67 03 00 00
https://avinor.no/en/corporate/about-us/the-avinor-group/about-the-company
Avinor is a wholly-owned state limited company under the Norwegian Ministry of Transport and Communications and is responsible for 44 state-owned airports.


Avinor has taken a leading role in reducing climate gas emissions from the aviation industry, including the development of electric aircrafts and supplying sustainable jet-biojetfuel.


Avinor provides safe and efficient travels for around 50 million passengers annually, half of which travel to and from Oslo Airport.


Over 3000 employees are responsible for planning, developing and operating an efficient airport and air navigation service. Avinor is financed via airport charges and commercial sales.  The air navigation services is organized as ​subsidiary wholly-owned by Avinor. Avinor's headquarter is in Oslo.