Increase in air travel during July
1.8 million passengers travelled to and from Avinor's airports over the course of July. This is a significant increase of 71 per cent compared with June, but still remains far from the normal situation for aviation.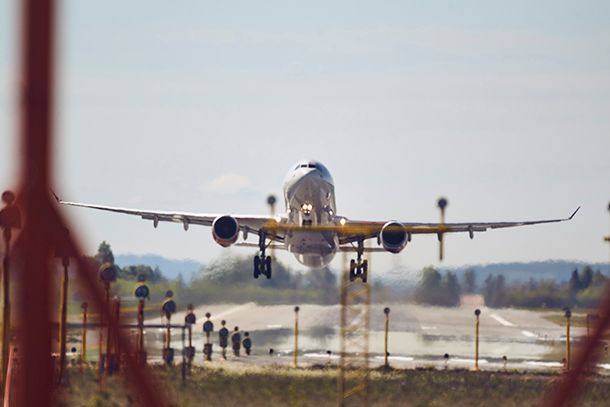 The traffic figures for July show that traffic increased at all Avinor airports. The biggest increase was recorded for domestic flights, which were at 64 per cent of the level recorded for the same month in 2019.
'It's gratifying to see an increase, and we have noted in particular an uptick in domestic travel. Nevertheless, we are still only recording figures that are below half of the usual passenger numbers we would expect based on the figures from the same period last year - so this is far from normal circumstances,' says Gaute Skallerud Riise, Vice President Traffic Development at Avinor.
Riise makes reference to the fact that international traffic during July was just 12 per cent of the equivalent figure in July 2019.
'However, we have also noted that foreign travel has almost tripled since June. Much of this is as a result of amendments to travel restrictions,' says Riise.
Regional airports have experienced the least decline
Throughout the Covid-19 pandemic, it has been regional airports that have experienced the least decline. Domestic traffic to and from these airports during July was at almost the same level as the corresponding month in 2019, and traffic was up more than twofold compared with June.
'This provides an indication of how important our smaller airports are for residents, tourism and business,' Riise explains.
More airlines returning to airports
Despite a low number of international passengers, foreign traffic has been increasing on a week-by-week basis. Multiple routes have resumed, and foreign airlines are returning.
'28 out of the 35 airlines who were operating at Oslo Airport before the Covid-19 pandemic have returned, and 51 out of 101 destinations have been added back to the destination map. This is essential for Norwegian business,' says Riise.
All foreign destinations have seen passenger numbers decline, but the smallest decreases were recorded for Denmark, Latvia and Lithuania.
'All in all, we have seen regular growth in recent weeks, but the total volume still remains completely different to what we are accustomed to. We are now entering a period during which we can expect international traffic to be impacted upon by new quarantine restrictions,' Riise concludes.
You can find detailed traffic statistics in the link below.
Contacts
Press service for journalists
We do not answer inquiries between 2100 and 0630 unless there is a critical incident. For info regarding flights - see avinor.no and choose airport.
+47 918 15 614
presse@avinor.no
About The Avinor Group

The Avinor Group
Dronning Eufemias gate 6
0191 Oslo
+47 67 03 00 00
https://avinor.no/en/corporate/about-us/the-avinor-group/about-the-company
Avinor is a wholly-owned state limited company under the Norwegian Ministry of Transport and Communications and is responsible for 44 state-owned airports.


Avinor has taken a leading role in reducing climate gas emissions from the aviation industry, including the development of electric aircrafts and supplying sustainable jet-biojetfuel.


Avinor provides safe and efficient travels for around 50 million passengers annually, half of which travel to and from Oslo Airport.


Over 3000 employees are responsible for planning, developing and operating an efficient airport and air navigation service. Avinor is financed via airport charges and commercial sales.  The air navigation services is organized as ​subsidiary wholly-owned by Avinor. Avinor's headquarter is in Oslo.
Subscribe to releases from The Avinor Group
Subscribe to all the latest releases from The Avinor Group by registering your e-mail address below. You can unsubscribe at any time.
Latest releases from The Avinor Group
In our pressroom you can read all our latest releases, find our press contacts, images, documents and other relevant information about us.
Visit our pressroom