Heading towards a record summer at Avinor Oslo Airport
Norway's main airport has never been busier than it is this summer. Friday 15 June is the busiest day for jetting off, and more than 106,000 passengers are expected to depart from or arrive at Oslo Airport.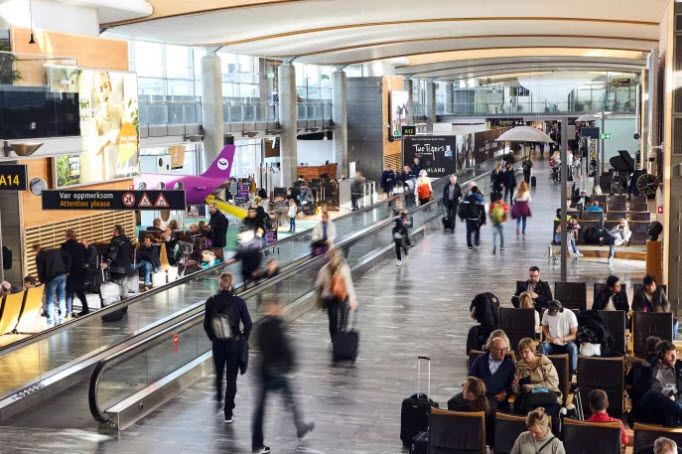 "We're heading for a summer with an incredibly high number of passengers. Several days will see more than 100,000 people jetting off. We expect to be very busy throughout June and July, but we're well prepared," says communications manager at Oslo Airport Joachim Westher Andersen.
He recommends that passengers give themselves a little extra time this summer.
"We recommend giving yourselves a little extra time, as so many people will be heading away at the same time. If you're travelling outside the Schengen area, bear in mind that there will be more passengers than normal going through passport control."
Improvements at border control
In co-operation with Oslo Airport, the police have implemented self-service passport checks for both departing and arriving passengers, who can carry out passport checks themselves automatically. This service is available to citizens over the age of 18 from Norway, Iceland, and the EU.
"Self-service passport control has more capacity than manual passport control. The service is currently in the implementation and testing phase, so the number of self-service kiosks in operation will vary," says police officer Lars Hegstad, who oversees the police's border control at Oslo Airport.
He says that passengers must still be prepared to queue at passport control during the busiest periods.
"We hope, however, that the introduction of self-service passport checks will reduce queue times," says Hegstad.
Security control
You can save a lot of time at security control if you come prepared and don't have any liquids in containers larger than 100 ml. The containers must be placed in a transparent, resealable, and closed plastic bag with a capacity of no more than 1 litre. You must not bring any sharp objects on board. Remember to remove all metal items from your body, and take any laptops, tablets, phones, and cameras out of your bag when passing through security control.
"If everyone is prepared before they come through security control, we can improve the flow of passengers and reduce waiting times," says Andersen.
Do you need a wheelchair or other assistance at the airport? Order assistance here.
Tie straps
If you check in your luggage yourself using a self-service kiosk, it is important that you tie up any long straps or cords so that they cannot get caught in the baggage belt. This applies to rucksacks and bags in particular. If in any doubt of whether your luggage is properly packed, speak with a member of check-in staff.
Travelling with kids this summer?
Our popular family lanes at security control can be used by anyone travelling with children under the age of 12 or children travelling alone.
"After security, we have children's pushchairs for passengers to use. These are free to use and can be left at the gate when you board your flight," explains Andersen.
Once through security control, there's a lot to keep passengers occupied at the airport. There are a variety of eateries, a range of shopping outlets, a hairdresser, individual workstations, play areas for kids, a breastfeeding room, and a wide range of lounges for passengers who want to relax in quieter surroundings.
You can find an overview of places to eat at Oslo Airport here.
Parking
Book your parkingOslo Airport has a variety of public transport options for getting to and from the airport, which we encourage passengers to use. But if you would still rather come by car and park, we would recommend booking a space in advance.
https://avinor.no/flyplass/oslo/parkering/
"By booking in advance, you secure the best price and a space," says the communications manager.
In April Oslo Airport launched its new "Park&Go" concept, which is the easiest way to park at the airport. All you need to do is drive to the area in front of the terminal nearest the door, leave your keys, and head straight to the departure hall. We'll park your car for you.
If you have any questions related to your visit to Oslo Airport, passenger service is ready to help around the clock. You'll find them in the arrivals hall. Send a message to our inbox or on our Facebook page and we'll do everything we can to help. We monitor Facebook around the clock, all year round.
Summer traffic 2017 – Oslo Airport. 
Week 23:
Monday 4 June: 88,900
Tuesday 5 June: 82,522
Wednesday 6 June: 88,229
Thursday 7 June: 94,493
Friday 8 June: 97,276
Saturday 9 June: 61,006
Sunday 10 June: 99,105
Week 24: 
Monday 11 June: 95,709
Tuesday 12 June: 89,693
Wednesday 13 June: 98,377
Thursday 14 June: 101,526
Friday 15 June: 106,313
Saturday 16 June: 61,919
Sunday 17 June: 99,097
Week 25: 
Monday 18 June: 100,150
Tuesday 19 June: 92,971
Wednesday 20 June: 99,584
Thursday 21 June: 101,019
Friday 22 June: 99,094
Saturday 23 June: 62,053
Sunday 24 June: 99,416
Week 26:
Monday 25 June: 100,232
Tuesday 26 June: 94,677
Wednesday 27 June: 98,429
Thursday 28 June: 100,716
Friday 29 June: 100,230
Saturday 30 June: 64,987
Sunday 1 July: 102,164
Week 27:
Monday 2 July: 98,647
Tuesday 3 July: 90,825
Wednesday 4 July: 93,559
Thursday 5 July: 94,429
Friday 6 July: 99,560
Saturday 7 July: 66,238
Sunday 8 July: 101,208
Week 28:
Monday 9 July: 98,476
Tuesday 10 July: 91,008
Wednesday 11 July: 93,641
Thursday 12 July: 96,411
Friday 13 July: 100,424
Saturday 14 July: 67,532
Sunday 15 July: 102,211
Week 29:
Monday 16 July: 98,495
Tuesday 17 July: 91,084
Wednesday 18 July: 93,368
Thursday 19 July: 94,611
Friday 20 July: 96,354
Saturday 21 July: 66,889
Sunday 22 July: 100,072
Week 30:
Monday 23 July: 96,939 
Tuesday 24 July: 87,895
Wednesday 25 July: 89,996
Thursday 26 July: 91,017
Friday 27 July: 93,186
Saturday 28 July: 66,176
Sunday 29 July: 99,525
Kontakter
Press contact numberPress service for journalists
Travellers are adviced to call our passenger service at +47 915 06 400
+47 918 15 614
Bilder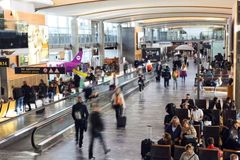 Om The Avinor Group

The Avinor Group
Dronning Eufemias gate 6
0191 Oslo
+47 67 03 00 00
https://avinor.no/en/corporate/about-us/the-avinor-group/about-the-company
Avinor is a wholly-owned state limited company under the Norwegian Ministry of Transport and Communications and is responsible for 44 state-owned airports.


Avinor has taken a leading role in reducing climate gas emissions from the aviation industry, including the development of electric aircrafts and supplying sustainable jet-biojetfuel.


Avinor provides safe and efficient travels for around 50 million passengers annualy, half of which travel to and from Oslo Airport.


Over 3000 employees are responsible for planning, developing and operating an efficient airport and air navigation service. Avinor is financed via airport charges and commercial sales.  The air navigation services is organized as ​subsidiary wholly-owned by Avinor. Avinor's headquarter is in Oslo.