Hankook Tire Europe GmbH: Hankook and Formula E celebrate partnership launch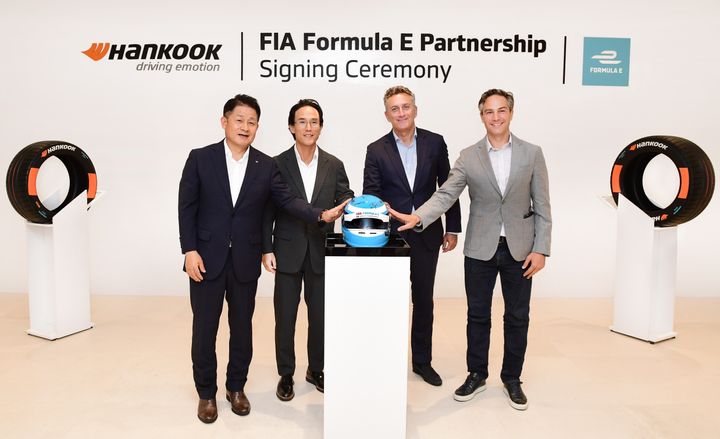 (Seoul, Korea/Neu-Isenburg, Germany) – As of next season, Hankook will be the new and exclusive technical partner and tyre supplier of the ABB FIA Formula E World Championship. At an event in The Swarovski Crystal Worlds in Austria, Hankook officially presented the newly developed Hankook iON race tyres to guests and representatives of Formula E, as well as the international media.
The new tyre has been developed in close cooperation with the racing series and is particularly aimed at meeting the sustainability needs of Formula E and the future of e-mobility, without compromising motorsport performance, of course. Nearly 30 percent of the new tyre, which is specially tailored to the third generation of Formula E race cars, is made of sustainable materials. The Formula E teams currently have access to a tyre variant that can be used in both dry and wet conditions, in order to further save resources. Furthermore, the long durability of the tyre is another pioneering step. After the respective race weekends, Hankook completely recycles every set of tyres ensuring the championship is as sustainable as possible.
Consumers, in particular, benefit from the development of the new Hankook Formula E race tyres highlighted by the race to road technology transfer. With its range of new iON road tyres for both summer (Hankook iON evo) and winter (Hankook iON Winter) use, the premium maker offers products for resource-friendly mobility to be fitted on modern, premium electric cars. A significantly lower rolling resistance for more km per battery load, high traction, even on wet roads and very good braking power for top safety and a high level of durability notably reflect the demands that electric cars place on their tyres.
Complete press kit: www.hankooktire-mediacenter.com
Images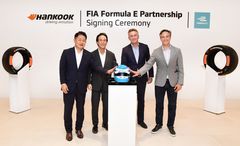 About news aktuell GmbH

news aktuell GmbH
Mittelweg 144
20148 Hamburg
+49 (0)40 4113-32589
http://www.newsaktuell.de
As wholly owned subsidiary of dpa, news aktuell provides business and organizations with effective access to media and consumers. Via the smart tools ots and zimpel, PR content accesses all media formats, including classical print, high click-rate online portals and social networks. In addition, news aktuell publishes all its customers' PR content on www.presseportal.de, one of the PR portals with the greatest reach in Germany. By this means, all the relevant multipliers are reached globally, from editors, via digital influencers right up to specialist bloggers and interested consumers. news aktuell has been on the market since 1989. The company, with a staff complement of more than 135, has its headquarters in Hamburg. Other offices are in Berlin, Dusseldorf, Frankfurt und Munich.