Good results for Avinor in 2018
With safe and stable operation, increased revenues and reduced cost, Avinor has delivered a good result both in last year's last quarter and for the year as a whole. Operating revenues totalled at NOK 11.7 billion, and profit after tax was approximately one billion.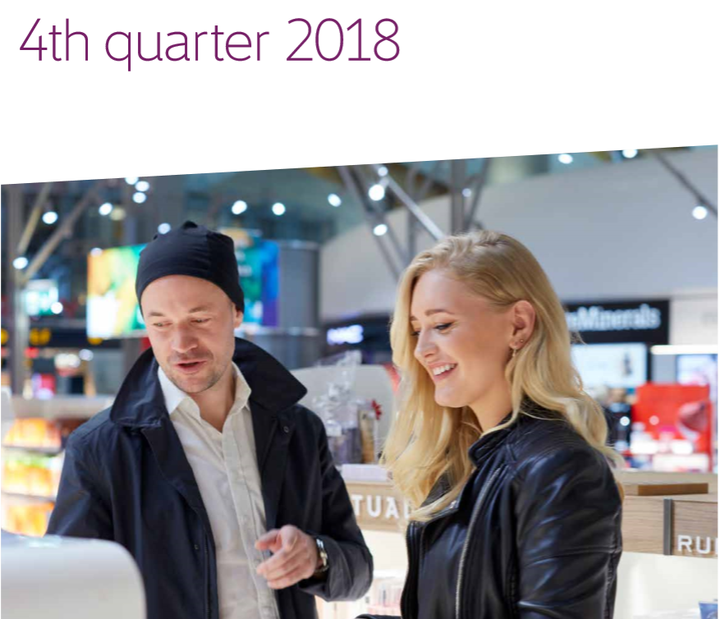 "It is gratifying to see that the new expanded terminals extensions in Bergen and Oslo airports are function working as planned. The offer to the travellers has become even better, and the expansions provide a good basis for managing future capacity needs. With lower investment levels and increased revenues, the group's financial solidity has been strengthened. Not least, it is gratifying that we have succeeded in keeping the airport charges to the airlines at a competitive and lower level than before," says CEO Dag Falk-Petersen.
A good fourth quarter
Avinor had a profit after tax of NOK 208 million, compared with NOK 115 million in the fourth quarter of the previous year. The Group's operating revenues amounted to NOK 2,911 million, compared with NOK 2,814 million for the corresponding period in 2017, which represents an increase of 3.4 per cent. The increase is primarily attributable to sales and rental income within airport operations, where both traffic growth and income per passenger contributed positively. Total operating expenses in the fourth quarter amounted to NOK 1,952 million, compared with NOK 2,016 million in the same period in 2017, which represents a fall of 3.2 per cent.

"We are satisfied with the increased revenues and reduced cost. Efforts to reduce the costs for the company and our customers will continue in the years to come," says the CEO.

Doubled profit
For the year as a whole, the Group had a profit after tax of NOK 1,095 million, compared with NOK 499 million in 2017. The positive change was due to good income growth and reduced underlying operating costs, as well as high one-off costs in 2017.

Operating income in 2018 amounted to NOK 11,720 million compared with NOK 11,526 in the corresponding period in 2017. The Airport operations had a good revenue growth driven by increased traffic volume and increased sales and rental income per passenger. Traffic revenues had a moderate growth of 1.3 per cent (minus 1.5 per cent per passenger) and this reflects Avinor's continuous focus on keeping aviation charges at a competitive level.
Download Avinor's interim financial report for Q4 here:https://avinor.no/en/corporate/about-us/financial-information/reports
Kontakter
Press contact numberPress service for journalists
Travellers are adviced to call our passenger service at +47 915 06 400
+47 918 15 614
Om The Avinor Group

The Avinor Group
Dronning Eufemias gate 6
0191 Oslo
+47 67 03 00 00
https://avinor.no/en/corporate/about-us/the-avinor-group/about-the-company
Avinor is a wholly-owned state limited company under the Norwegian Ministry of Transport and Communications and is responsible for 45 state-owned airports.
Twelve of the airports are operated in cooperation with the Norwegian Armed Forces.
In addition to the airports, Avinor operates control towers, control centres and other technical infrastructure for safe air navigation.
The air navigation services is organised as subsidiary wholly-owned by Avinor. Avinor's headquarter is in Oslo.