Dornbracht: Den nye blandebatteriserien CYO – et suverent statement på baderommet som del av livsstilen
Iserlohn, 06.05.2021 – Autentisk, ekte og sansbart. Den nye blandebatteriserien for bad CYO oppretter en forbindelse mellom Dornbrachts designhistorie og tidsånden i dag. Med en ny tolkning av C-utløpet symboliserer det strukturelle utkastet fra Sieger Design tidløs eleganse. Dermed svarer CYO på et behov for ekthet og verdibevaring, noe som blir merkbart gjennom den ekstremt høye material-, manufaktur- og produktkvaliteten.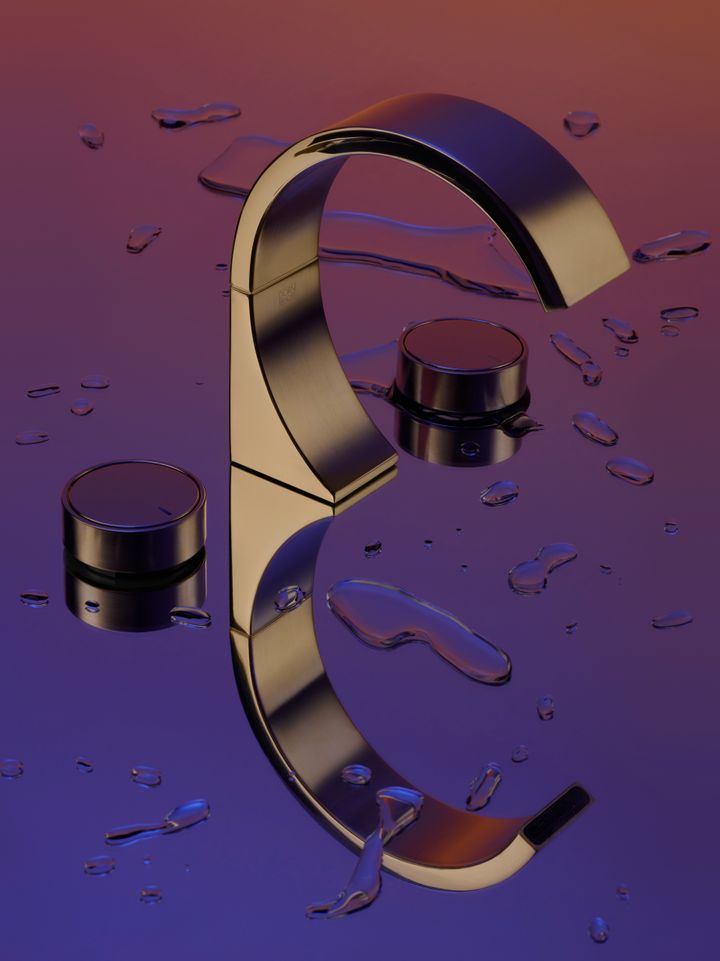 Inspirert av et utkast fra foretakets designarkiv fra 1969 blir blandebatteriet til et symbol for denne tiden – med et formspråk som virker kjent, men som likevel framstår som nytt og framtidsrettet. Den nye designen knytter det kulturelle og designmessige fundamentet til merket Dornbracht med merkets nye løfte: "Leading Designs for Architecture". Det arketypiske C-utløpet, som er tolket på nytt, er blandebatteriets sentrale designelement. Det understreker den ekstravagante konturen og skulpturelle kvaliteten til CYO. Sirkelen som grunnform videreføres konsekvent: fra seriens grepelementer til vannstrålen som følger utløpets form. De sentrale designelementene definerer det komplette produktprogrammet for servant, badekar og dusj, supplert med passende accessoires, og fører dermed til et harmonisk samlet bilde for alle anvendelsesområdene i badeværelset.
CYO etterkommer ønsket om mer individualitet
Konseptet for grepene er et høydepunkt i serien. På den ene siden markerer det noe nytt når det gjelder funksjonen, for betjeningen skjer ved hjelp av en dreibar ytterring. Et fint tilpasset låsehakksystem gir brukeren en bevisst, taktil tilbakemelding hver gang ringen dreies. På den andre siden gir et bredt og inspirerende utvalg grepsinnsatser i ulike overflater, utførelser og materialer, f.eks. med strukturer eller naturstein, et stort spillerom for design. I denne forbindelse kan grepsinnsatsene kombineres individuelt og enkelt byttes ut. Dornbracht x-tra Service byr på ytterligere muligheter for individualisering.
Utvalget av overflater som er kuratert spesielt for CYO, har en karakteristisk egenskap: De bi-strukturelle overflatene kombinerer matte flater og flater med glans. De understreker suverent linjeføringen og gir – i form av en spesielt fin kontrast – designen et ekstra sofistikert preg. Seks eksklusive spesialoverflater utvider i tillegg mulighetene for individualisering. Den unike fargedybden og overflatenes høye briljans er et resultat av en presis og omfattende foredlingsprosess.
Dornbrachts design-DNA
Avbalanserte proporsjoner og kompromissløs presisjon er det som utgjør den progressive og unike karakteren som gir CYO en så sterk personlighet. Dermed følger designen de definerte designprinsippene i Dornbracht som danner grunnlag for alle utkast og dermed utgjør produktenes verdistabile kvalitet.
"Ingen framtid uten opphav", konkluderer Stefan Gesing, styreleder i Dornbracht AG & Co. KG: "CYO står for et tilbakeblikk og samtidig for et blikk inn i framtiden, og oppfyller dermed det som vi definerer som vår ambisjon 'Leading Designs for Architecture'."
Om Dornbracht
Dornbracht med hovedsete i Iserlohn er en ledende tilbyder av design-blandebatterier og -tilbehør av høy kvalitet til bad, spa og kjøkken. Selskapet ble stiftet i 1950 og er i dag internasjonalt aktivt med sin produktportefølje i mer enn 125 markeder. Som Premium-merke står Dornbracht for innovativ teknologi og høye kvalitetstandarder på produksjonsnivå. Dette nivået realiseres "Made in Germany" med høyt kvalifiserte medarbeidere og toppmoderne produksjonsteknologier. Klart definerte designprinsipper garanterer at Dornbrachts karakteristiske produktdesign, som har gjort Dornbracht så viktig verden over, alltid har en bærekraftig estetikk.


Presskontakt: dornbracht@piabo.net

Ekstra bilder kan lastes ned her: http://bit.ly/dornbrachtCYO

Alle bilder kan brukes fritt, og krediteres, Foto: Gerhardt Kellermann / Dornbracht
Om news aktuell GmbH

news aktuell GmbH
Mittelweg 144
20148 Hamburg
+49 (0)40 4113-32589
http://www.newsaktuell.de
As wholly owned subsidiary of dpa, news aktuell provides business and organizations with effective access to media and consumers. Via the smart tools ots and zimpel, PR content accesses all media formats, including classical print, high click-rate online portals and social networks. In addition, news aktuell publishes all its customers' PR content on www.presseportal.de, one of the PR portals with the greatest reach in Germany. By this means, all the relevant multipliers are reached globally, from editors, via digital influencers right up to specialist bloggers and interested consumers. news aktuell has been on the market since 1989. The company, with a staff complement of more than 135, has its headquarters in Hamburg. Other offices are in Berlin, Dusseldorf, Frankfurt und Munich.