Delivery platform unicorn Glovo chooses StrongPoint as preferred supplier for grocery picking solutions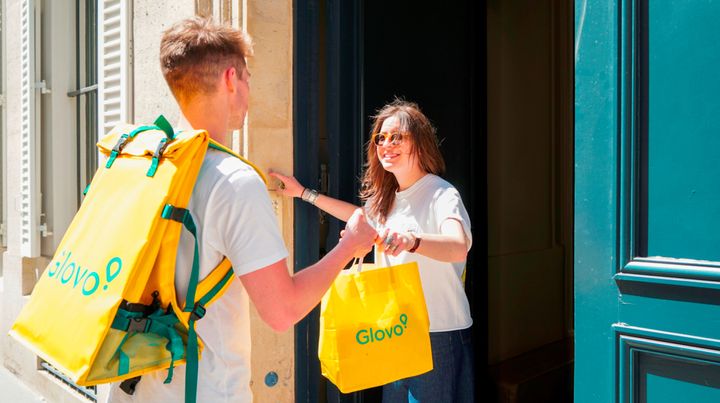 StrongPoint today announces that Glovo, the on-demand meal and grocery delivery platform available in 22 countries and one of Europe's leading technology unicorns (a valuation of over USD 1 billion), has chosen StrongPoint as a preferred supplier for grocery picking technology.
Glovo plans to use StrongPoint's picking solution to empower its grocery partners with a faster, more efficient and accurate way of processing online orders – saving time and cutting costs. The project will begin in Q1 in Southern Europe and the intent is to later deploy StrongPoint's technology to also other countries in which Glovo is operating. Glovo provides on-demand groceries via its retail grocery partners which include Walmart, Carrefour and Spar.
"Our customers expect us to be effective and efficient, delivering orders with speed and accuracy. StrongPoint has a proven track record of supplying retailers and grocery stores with highly efficient picking solutions that make fulfilling online orders faster. Every day we are onboarding more grocery store partners and we want to provide them with the easiest way to pick and pack the groceries orders so we can deliver it to the customer as quickly as possible," said Daniel Alonso, Vice President of Q-Commerce at Glovo.
"We are extremely proud that our world-class grocery picking solution has been recognised by the tech unicorn and delivery platform Glovo and look forward to empowering their grocery retail partners with our technology. For grocery retailers the key to e-commerce profitability is making the logistics of processing online orders as fast and efficient as possible – which is exactly what our technology enables," said Jacob Tveraabak, CEO of StrongPoint.
StrongPoint's E-Commerce solutions are being used by leading grocery retailers across Europe and in North America. Features of StrongPoint's third-generation picking solution include:
Hyper-efficient – up to 7X more efficient than industry standards (top quartile of customers average ~240 items picked per labour hour and some are peaking at over 350, compared to a common industry baseline of 50 items per labour hour)
Flexible – can be used for any store, from small convenience store to hypermarket
Scalable – cloud-based and can be scaled up and down to meet unexpected, seasonal or weekly changes in demand
Fast to deploy – on average takes less than 5 mins of training
Accurate – 99.99% average picking accuracy
About Glovo
Glovo is a pioneering multi-category delivery app and one of the world's leading delivery platforms. Founded in Barcelona in 2015, operates in 750 cities across 22 countries, including EEMEA, LATAM, and Sub-Saharan Africa.
The app connects users with restaurants, grocery chains, pharmacies and retail stores, and also includes an "anything" category that allows users to order whatever they want.

For more information about Glovo, please visit: http://about.glovo.com/en/

About StrongPoint
StrongPoint has over 35 years' experience working in retail technology and provides e-commerce and in-store efficiency solutions. StrongPoint provides e-commerce solutions to almost 1,000 stores in over 10 countries and over 3,500 grocery staff workers pick over 2 million items every day with StrongPoint's picking solution.
StrongPoint is a retail technology company that provides solutions to make shops smarter, shopping experiences better and online grocery shopping more efficient.
With over 450 employees in Norway, Sweden, the Baltics and Spain and together with a wide partner network, StrongPoint supports businesses in more than 20 countries. We provide automated and secured cash management and payment solutions, click & collect temperature-controlled grocery lockers, self-checkouts, electronic shelf labels, in-store and warehouse grocery picking solutions and the design and manufacturing of labels.
StrongPoint is headquartered in Norway and is listed on the Oslo Stock Exchange [Ticker: STRO].
For more information about StrongPoint, please visit: http://www.strongpoint.com