Centaurify and Universal Music Central Europe Announce Partnership and Exciting Range of Unique Digital Collectibles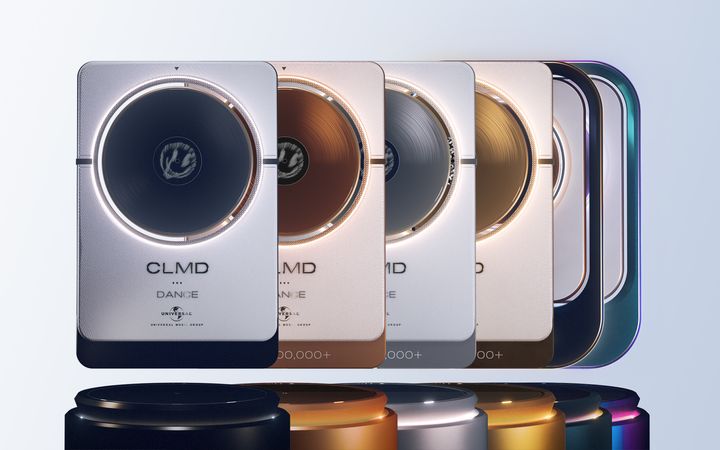 OSLO, MARCH 20, 2023 — Universal Music Central Europe (UMG) and Centaurify today announced a partnership to bring music fans and artists together in new and exciting ways. With deep roots in the music industry and web3 space, Centaurify will deliver a range of solutions for UMG artists who want to explore new forms of digital engagement with fans.
As part of the partnership, UMG will release a series of exclusive, limited-edition collectibles celebrating their artists' achievements. These collectibles celebrate achievements in the artist's career and give fans a chance to own a piece of music history.
"The Universal Music Collection" will allow artists to explore the possibilities offered by web3 and interact with fans in innovative, exciting ways. The collectibles will evolve as the streaming numbers grow, from launch to orbit, lunar, solar, galaxy and supernova – all in real time. Artists and fans can watch the trophy evolve from its basic form as the song gains traction and mainstream popularity.
The collectibles will also give exclusive benefits to a community of like-minded music fans. This will include pre-sale access to future collectibles in the series, access to exclusive releases from artists and VIP digital community. The partnership's first wave of these digital collectibles will be available in early 2023 in Norway and Sweden, with more countries to be announced soon. Fans can register for the guest list at https://www.centaurify.io.
Martin Bjercke, Centaurify Co-founder & UMG artist CLMD, said: "UMG has played a big role in my music career for years, so taking this monumental step into the tech world with a company I have so much respect for feels unreal. As an artist, I'm excited at the possibilities Web3 offers artists and fans. UMG has a history of pursuing new paths in the industry, and I am proud to continue our close relationship on these new fronts to pioneer the future of music."
Centaurify Co-founder David Rootwelt-Norberg said: "We are thrilled to partner with UMG, a world leader in the music industry, and to help their amazing roster of artists transition into the web3 space. We're excited to make the Universal project a success and build on this with a series of other projects already in development."
Bjørn Rogstad, Universal Music Group Norway Managing Director, said: "We are excited to announce our partnership with Centaurify and believe this collaboration will bring about significant learnings, innovation, and growth. This partnership allows us to tap into Centaurify's cutting-edge technology and expertise and deliver engaging new products for our artists and their audience."
Atle Richter Schie, UMG Norway Innovation Manager, said: "We are always looking for new and exciting ways to bring value to artists and are excited about the opportunities this will bring in building deeper fan engagement."
ABOUT CENTAURIFY
Centaurify is a web3 music company offering the latest digital fan engagement solutions to the music industry, through their digital marketplace, ticketing platform, and web3 studio.
As well as curating the best from the existing world of web3 music, Centaurify will act as a launchpad for several new music projects in development, from bespoke activations to industry-wide 'products' and solutions, including fan membership, audiovisual listening experiences, motion capture, streaming, and metaverse events and experiences.
Centaurify has developed its own creative web3 studio combining in-house expertise with a network of partners that can help with all aspects of web3, from creative design to AR / VR development and technical implementation. The Universal project will launch with the marketplace in Q1 2023. The launch will also include a number of artists' projects, NFT ticketing activations for exclusive events, and VIP/backstage passes with Proof of attendance protocols (POAPs) and live mints.
ABOUT UNIVERSAL MUSIC GROUP
At Universal Music Group, we exist to shape culture through the power of artistry. UMG is the world leader in music-based entertainment, with a broad array of businesses engaged in recorded music, music publishing, merchandising and audiovisual content. Featuring the most comprehensive catalogue of recordings and songs across every musical genre, UMG identifies and develops artists and produces and distributes the most critically acclaimed and commercially successful music in the world. Committed to artistry, innovation and entrepreneurship, UMG fosters the development of services, platforms, and business models in order to broaden artistic and commercial opportunities for our artists and create new experiences for fans. For more information, visit www.universalmusic.com
About Universal Music Norge

Universal Music Norge
Drammensveien 88B
0271 Oslo
+47 22 54 14 00
http://www.universalmusic.no
Universal Music AS er verdens, og Norges, største musikkselskap og representerer blant annet artister som Astrid S, The Weeknd, TIX, Ramón, Post Malone, Ariana Grande, Dagny, Ruben, Shawn Mendes, The Beatles, Odd Nordstoga, Drake, Imagine Dragons, The Rolling Stones m.fl.