Builds new apartments in Stockholm
AF Gruppen's subsidiary HMB Construction AB has signed an agreement with AB Familjebostäder, a municipal housing company owned by the City of Stockholm.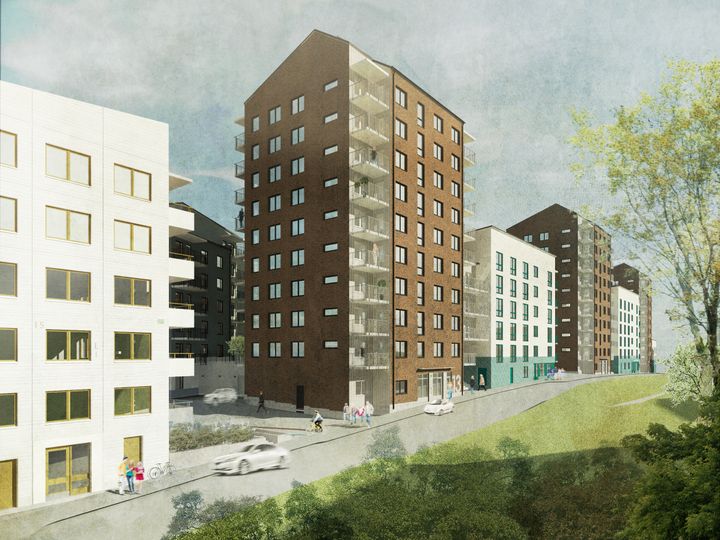 HMB Construction will build 87 apartments in stage 3 of Drevvikshöjden in Farsta with a target price of SEK 218 million excluding VAT.
Project Drevvikshöjden, located between Farsta and Sköndal in the City of Stockholm, consists of five stages with a total of about 600 rental apartments, a preschool and business premises.
Stage 3 will be implemented as a collaborative turnkey contract. It includes 87 apartments, including 19 young people's apartments, garages, a civil defence shelter and a local street.
The property's energy supply comes from solar cells, geothermal and district heating with an annual energy consumption lower than 55 kWh/m2. The property is designed and produced to qualify for Green Building (Miljöbyggnad) certification.
- We are pleased to be building housing with a reduced carbon footprint and look forward to the continued collaboration with Familjebostäder, says Bård Frydenlund, EVP in Sweden for AF Gruppen.
HMB Construction won the tender for the entire Drevvikshöjden project at the end of 2017. Planning and calculation are done in stages, and Familjebostäder has the option to call off each stage.
HMB Construction is currently building Drevvikshöjden's stage 1 and 2, with a total target price of approximately SEK 500 million.
HMB Construction is one of seven subsidiaries of AF Gruppen Sverige. HMB has operations in Stockholm, Mälardalen, Dalarna, Västmanland, Uppland and Gästrikland. In 2018 the company recorded sales of SEK 1.3 billion.
About AF Gruppen ASA
AF Gruppen ASA
Innspurten 15
0603 Oslo
+47 22 89 11 00
https://afgruppen.com
AF Gruppen is a leading contracting and industrial group that was formed by an entrepreneurial spirit and execution capabilities. The group has 5,700 employees and revenue reached NOK 18.8 billion in 2018. AF Gruppen is listed on Oslo Stock Exchange (AFG).
We provide a broad range of services with seven operational business areas: Civil Engineering, Building, Betonmast, Property, Energy and Environment, Sweden and Offshore.