Building new homes in south Stockholm
AF Gruppen's subsidiary HMB has entered into an agreement to build 64 apartments as part of the fifth stage of a residential project for Familjebostäder outside Stockholm. After completing this stage, HMB will have constructed a total of 600 apartments for Familjebostäder at Drevvikshöjden.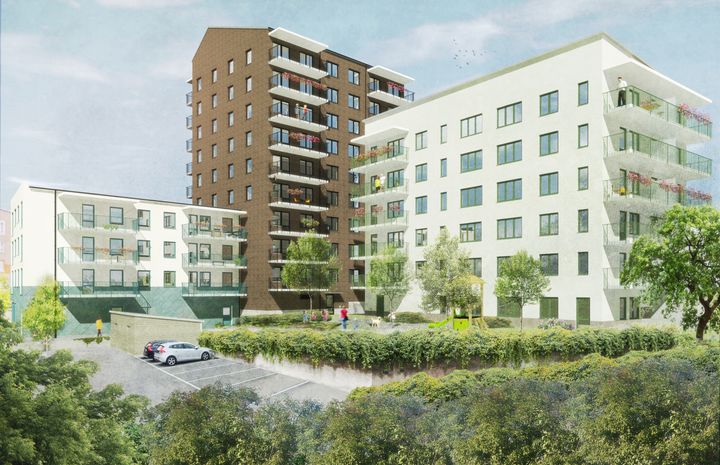 The contract is valued at SEK 148 million, excluding VAT. The apartments will be ready for occupancy in 2024. The project will be carried out as a turnkey contract.
"We appreciate our working relationship with Familjebostäder and we're pleased to be part of building new homes in the Stockholm area. Drevvikshöjden will be an important addition to boosting the available housing," says Bård Frydenlund, EVP, AF Gruppen for Sweden.
Familjebostäder's new residential area Drevvikshöjden is located between Farsta and Sköndal in south Stockholm. Once the project is completed, the area will comprise a total of 600 rental apartments, preschools and other facilities. HMB Construction started the development of the Drevvikshöjden project in 2017. Design, structural engineering and call-off ordering have taken place in stages. The properties are designed for a low consumption of energy generated by photovoltaic solar panels, geothermal heating and district heating. The entire Drevvikshöjden project is designed pursuant to the Silver standard under the Swedish environmental building certification system Miljöbyggnad.
About AF Gruppen ASA
AF Gruppen ASA
Innspurten 15
0603 Oslo
+47 22 89 11 00
https://afgruppen.com
AF Gruppen is a leading contracting and industrial group that was formed by an entrepreneurial spirit and execution capabilities. The group has 5,500 employees and revenue reached NOK 27 billion in 2020. AF Gruppen is listed on Oslo Stock Exchange (AFG).
We provide a broad range of services with seven operational business areas: Civil Engineering, Building, Betonmast, Property, Energy and Environment, Sweden and Offshore.