Avinor lost 6 out of 10 passengers in 2020
A total of 20 million passengers travelled through Avinor's airports in 2020. This is a decrease of 63 per cent compared with 2019.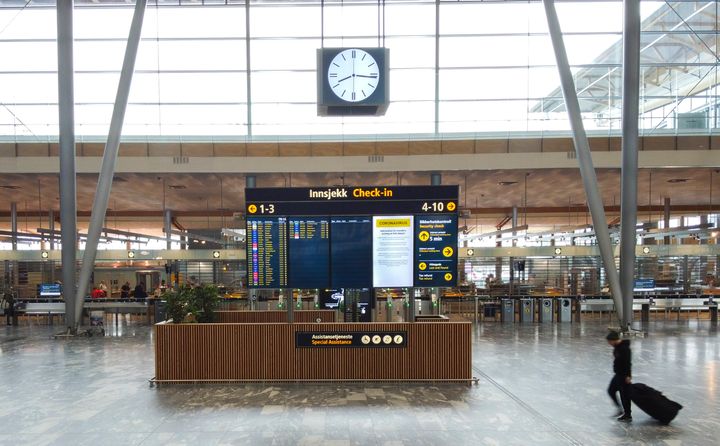 The largest decrease was at Oslo Airport, which had just 9 million passengers compared with 28.6 per cent in 2019.
'The Covid-19 pandemic has hit aviation hard, and the fall in passenger numbers for 2020 is a direct consequence of this,' says Avinor CEO Dag Falk-Petersen.

The number of aircraft movement did not decrease to the same extent when compared with the previous year. There was a reduction of 33 per cent. This is partly due to the fact that the government purchased a large number of routes to guarantee the availability of transportation capacity throughout Norway.

Flights to and from offshore installations have also continued more or less as usual, in addition to air freight capacity for Norwegian seafood being maintained at its normal levels during the pandemic. The loss of intercontinental passenger routes carrying freight has been replaced by several dedicated freight routes from Oslo Airport.

'The decline in the freight market has been minimal, which is unique among European airports in 2020,' says Falk-Petersen. 'We are also very pleased that we have been able to help out by bringing in 12,000 cubic metres of infection control equipment and other equipment to fight the pandemic in Norway. This is the equivalent of 200 semi-trailers of equipment.'

Despite being in the midst of a very challenging time, Norwegian aviation has delivered services that have ensured that necessary transportation can take place. The government has provided significant direct and indirect support to enable this.
During the final month of the year, passenger figures fell by 70 per cent compared with December the year before.

You can download detailed traffic statistics for 2020 from avinor.no.
Kontakter
Press service for journalists
We do not answer inquiries between 2100 and 0630 unless there is a critical incident. For info regarding flights - see avinor.no and choose airport.

Tel:
+47 918 15 614
presse@avinor.no
Om The Avinor Group

The Avinor Group
Dronning Eufemias gate 6
0191 Oslo
+47 67 03 00 00
https://avinor.no/en/corporate/about-us/the-avinor-group/about-the-company
Avinor is a wholly-owned state limited company under the Norwegian Ministry of Transport and Communications and is responsible for 44 state-owned airports.


Avinor has taken a leading role in reducing climate gas emissions from the aviation industry, including the development of electric aircrafts and supplying sustainable jet-biojetfuel.


Avinor provides safe and efficient travels for around 50 million passengers annually, half of which travel to and from Oslo Airport.


Over 3000 employees are responsible for planning, developing and operating an efficient airport and air navigation service. Avinor is financed via airport charges and commercial sales.  The air navigation services is organized as ​subsidiary wholly-owned by Avinor. Avinor's headquarter is in Oslo.