AF Gruppen to build 196 apartments in Nittedal
AF Gruppen has entered into an agreement with Øie Eiendomsutvikling AS to build the residential project "Kvernstua" in Nittedal in Akershus.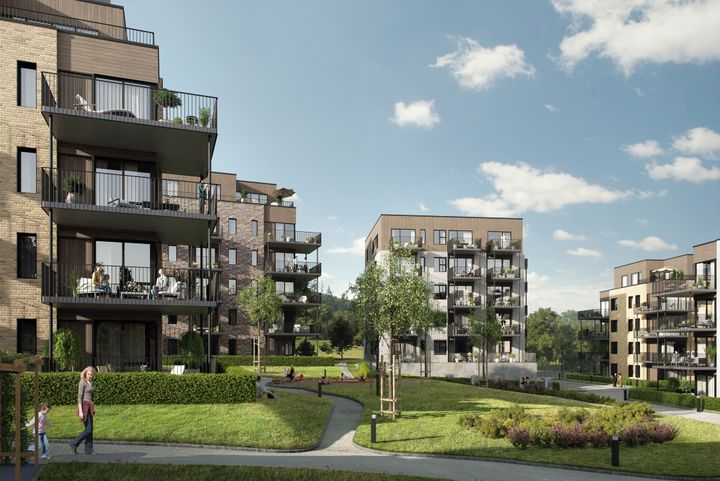 The contract comprises building 196 apartments in 7 structures with a parking basement. In addition to the apartments, the project also includes developing outdoor areas with a ball court, hiking trails, pedestrian and cycling paths, and a pedestrian bridge across the Ørfiskebekken stream that surrounds the project.
The project will be carried out as a turnkey contract valued at NOK 474 million excluding VAT across 2 building stages. Work starts in the beginning of June 2019 and is scheduled for completion in the 4th quarter 2021. The go-ahead of stage 2 is subject to sufficient advance sales.
"We're looking forward to starting work on this great housing project in Nittedal. Øie Eiendomsutvikling AS is a new customer to AF Gruppen, and we're looking forward to a good partnership in the time ahead," says Morten Grongstad, CEO of AF Gruppen.
About AF Gruppen ASA
AF Gruppen ASA
Innspurten 15
0603 Oslo
+47 22 89 11 00
https://afgruppen.com
AF Gruppen is a leading contracting and industrial group. The purpose of our business is to create value for our customers, owners, employees and society at large. We are proud of our good financial results, but every bit as important are the non-financial values that we create every day. A safe working environment for our employees and sub-contractor personnel, new services that help solve society's environmental challenges and ethical business operations that create security for our customers. This in turn provides us with the opportunity to create additional value for our owners.
Subscribe to releases from AF Gruppen ASA
Subscribe to all the latest releases from AF Gruppen ASA by registering your e-mail address below. You can unsubscribe at any time.
Latest releases from AF Gruppen ASA
In our pressroom you can read all our latest releases, find our press contacts, images, documents and other relevant information about us.
Visit our pressroom