A busy summer at Norwegian airports
Summer is here, and the next few weeks will be the busiest at Norwegian airports since 2019. Here you can find Avinor's tips for a smooth journey.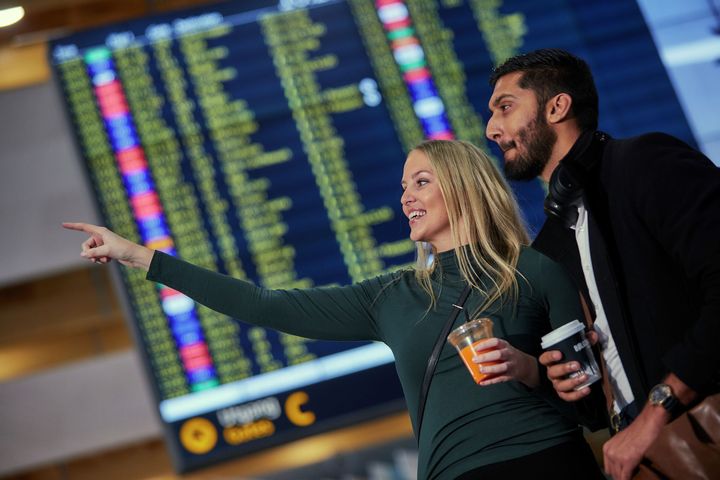 Norwegian airports are expecting large numbers of passengers over the next ten days. Friday 24 June looks set to be the main departure day of the summer holidays at both Oslo Airport and Trondheim Airport. Passengers are advised to arrive prepared for both check-in and security.
"Norwegian passengers are digitally skilled and good preparation will help us ensure that everyone can move through our airports seamlessly," says Joachim Westher Andersen, Head of Communications at Avinor.
Here you can find Avinor's tips for how you can contribute to a smooth journey:
1. Don't arrive too early
You do not need to arrive any earlier than normal, as this could lead to congestion at security and long queues.
"Arrive at the time specified by the airline and if there are any changes to your journey, please pay attention to the information provided by your airline," says Westher Andersen.
2. Check in online and drop your baggage off yourself
Most airlines allow you to check in online via a link sent by SMS.
"If you check in online, you will have your ticket with you at all times and don't have to look after a paper ticket," Westher Andersen explains.
You can drop your baggage off yourself too, simply print a baggage tag at one of the machines in the departures area and drop your bag off at the self-service bag drop. If you are travelling to the airport on the Airport Express train, you can even print your baggage tag on the train.
"Don't forget to keep the receipt from the end of the baggage tag safe. The rest of the baggage tag must be secured properly to the baggage before you drop it off. If you are unsure, our Avinor colleagues would be happy to help, you can find them wearing yellow jumpers," he says.
3. Apps, apps and more apps
It might feel as though your mobile phone is already drowning in apps, but it may be a good idea to download a few additional apps before travelling this summer.
"The Avinor app allows you to enter your flight number to receive updates specific to your flight. You can also check the waiting time at security and when you return you will also be notified when your baggage is on the belt ready for collection," Westher Andersen explains.
Most airlines also have their own apps.
"These apps make it easier for you to keep an eye on your flight. You can check in and will be issued with a digital boarding card and you will be notified when it is time to go to gate and of any delays," he says.
4. Arrive prepared for security
Keep your boarding card ready, as a digital or printed version. Remove any laptops, cameras and tablets from their bags and place all liquids in a separate bag. You can leave your mobile and keys in your coat pocket, but don't forget to take your coat off.
5. Are you bringing a pet?
You can bring smaller animals through security and into the cabin, if permitted by the airline. Check with the airline you are travelling with for further information.
6. Family fast track
Passengers travelling with children under the age of twelve can use the family fast track at selected airports.
If you are departing from Oslo Airport, you will also have access to the following:
7. Arriving early? Relax at the lounge
The OSL Lounge is available to all passengers travelling internationally from three hours before departure and costs NOK 350. Payment must be made using a debit or credit card via the payment terminal. At the lounge, you can enjoy a light meal, relax with a newspaper or surf the internet in a quiet atmosphere. The lounge also includes a dedicated meeting room that can be booked at reception.
8. Quiet room
There is a quiet room designed for quiet, meditation and prayer near gate A10 at Oslo Airport.


9. Domestic transfers at Oslo Airport
Where do you need to go and do you need to collect your baggage? This is what you need to know if you are arriving from abroad and continuing onto a domestic flight.

Hoping for a great experience for all
"We will do everything we can to provide you with a great experience at our airports this summer. At Avinor, we have prepared well for the summer traffic and, as a passenger, you can contribute by using self-service solutions."
"Finally, we would like to wish all passengers an enjoyable journey and a fantastic summer," Westher Andersen concludes.

Facts: the busiest departure dates this summer
Here you can find a traffic forecast showing the busiest days at Norwegian airports in June. The figures show the anticipated number of passengers.
Oslo Airport

Date

Weekday

Total number of passengers

19/06/2022

Sunday

95,100

24/06/2022

Friday

95,900

26/06/2022

Sunday

97,400
Bergen Airport

Date

Weekday

Total number of passengers

16/06/2022

Friday

22,105

24/06/2022

Friday

23,300

26/06/2022

Sunday

24,600
Trondheim Airport

Date

Weekday

Total number of passengers

17/06/2022

Friday

16,200

19/06/2022

Sunday

15,600

24/06/2022

Friday

16,900
Stavanger Airport

Date

Weekday

Total number of passengers

19/06/2022

Sunday

14,600

23/06/2022

Thursday

14,700

24/06/2022

Friday

15,200