79.8 per cent decrease in passenger traffic at Avinor's airports in June
The traffic statistics for Avinor in June shows a 79.8 per cent decrease in passenger traffic compared to 2019. The international traffic is reduced by 96 per cent compared to last year.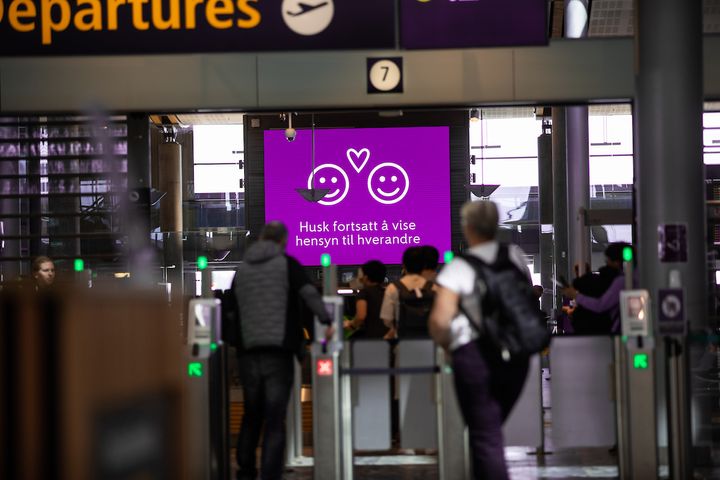 - June is traditionally the month with most number of passengers, but because of the corona situation we experience that as many as 8 out of 10 passengers are lost from Avinor's airports, says Nora Hoberg Prestaasen, senior communications adviser at Avinor.
- Despite the significant decline, we see some increase in the number of passengers compared to last month. Especially on domestic flights, where the increase is 12.4 per cent compared to May this year, she says.
The number of aircraft movements is also increasing compared to May 2020, which can be explained by the airlines' recent reopening of some routes.
- Although the number of passengers is far from normal, we look forward to welcoming travelers this summer. Those who are traveling can be assured that Avinor provides a good and safe journey, concludes Prestaasen.
You can find detailed traffic statistics in the link below.
Kontakter
Press service for journalists
We do not answer inquiries between 2100 and 0630 unless there is a critical incident. For info regarding flights - see avinor.no and choose airport.

Tel:
+47 918 15 614
presse@avinor.no
Om The Avinor Group

The Avinor Group
Dronning Eufemias gate 6
0191 Oslo
+47 67 03 00 00
https://avinor.no/en/corporate/about-us/the-avinor-group/about-the-company
Avinor is a wholly-owned state limited company under the Norwegian Ministry of Transport and Communications and is responsible for 44 state-owned airports.


Avinor has taken a leading role in reducing climate gas emissions from the aviation industry, including the development of electric aircrafts and supplying sustainable jet-biojetfuel.


Avinor provides safe and efficient travels for around 50 million passengers annually, half of which travel to and from Oslo Airport.


Over 3000 employees are responsible for planning, developing and operating an efficient airport and air navigation service. Avinor is financed via airport charges and commercial sales.  The air navigation services is organized as ​subsidiary wholly-owned by Avinor. Avinor's headquarter is in Oslo.