Kia Niro PHEV vinner Red Dot Award
Kia Niro PHEV vinner Red Dot Award. Niro Plug- in Hybrid vinner i kategorien produktdesign. Niro finnes både som helelektrisk, hybrid og Plug- in Hybrid. Niro ble ny i fjor og har lenge vært en populær bil blant nordmenn. Det finnes 8500 Niro av det den forrige modellen på veien i Norge.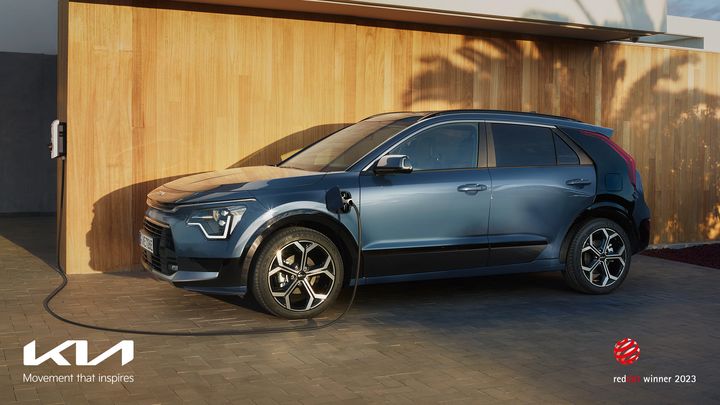 - Nye Niro fremstår som en ny bil på alle måter. Bilen oppdages både av nye og gamle Kia- kunder. Overskrifter som Elbilen folk flest trenger, oppsummerer Kia Niro på en god måte, sier Christian Lagaard i Kia Bil Norge.
Pressemelding fra Kia Europa:
Kia Niro PHEV wins prestigious Red Dot Award
- The plug-in hybrid version of the Kia Niro wins in the "Product Design" category
- Model stands out for embodying 'Opposites United' design philosophy and unique use of eco-friendly interior materials
- Kia Niro also available with hybrid, and battery-electric powertrains
April 12, 2023 – The Kia Niro Plug-in Hybrid has been recognised with a Red Dot Design Award in the category "Product Design." The award is a testament to Kia's commitment to designing innovative, high-quality vehicles that meet the needs of its customers while also staying at the forefront of cutting-edge design.
The Niro Plug-in Hybrid features an emotional yet rational design aesthetic, guided by Kia's 'Opposites United' design ethos. The purposeful and head-turning look was designed to inspire movement. Notable features include contemporary-looking angular 'Heartbeat' daytime running lights (DRLs), a distinctive Aero C-Pillar, a bold skid plate and cladding to enhance the electrified CUV's rugged stance. Combined with the latest evolution of Kia's signature Tiger Face, the model embodies a distinctly Kia design.
The Kia Niro comes with the choice of three electrified powertrains: battery-electric, hybrid, and plug-in hybrid. In line with the eco-friendly driving choices, all three variations also feature eco-friendly interior materials, ranging from recycled wallpaper in the headline, VOC-free paint in the door panels, and PU vegan leather seat coverings, made from Tencel from Eucalyptus trees. In addition, the cargo screen contains 75 per cent recycled fibres.
"We are happy to receive this award for the Kia Niro Plug-in Hybrid," said Sjoerd Knipping, Vice President of Marketing and Product for Kia Europe of Kia Europe. "This recognition is a testament to the hard work of our design and engineering teams, as well as the winning nature of our guiding philosophy 'Opposites United.' We are honoured to be recognized by the Red Dot Design Award for our efforts, and we look forward to continuing to push the boundaries of automotive design."
The Red Dot Design Award is one of the most highly sought-after seals of design quality. Each year, a jury of international experts examine the submissions for design quality and degree of innovation.
This achievement comes after a long line of design award wins by Kia. The latest success by the Niro Plug-in Hybrid marks the 28th Red Dot awarded to a Kia model since 2009. Last year, the all-new EV6 was crowned 'Best of the Best' for its pioneering and forward-looking design, and in 2021, the Kia Sorento also won the Red Dot Award for its product design.
Kia vehicles aren't the only Kia products to reap design accolades in recent years. In 2022, the company's 'Moving Inspiration Project,' a design installation highlighting the company's brand philosophy in Italy, was also awarded a Red Dot Design Award. These awards demonstrate the company's continued ability to create exceptional products that push the boundaries of design excellence.
About Kia Europe 
Kia Europe is the European sales and manufacturing division of Kia Corporation – a global mobility brand that is creating innovative, pioneering and leading sustainable mobility solutions for consumers, communities and societies around the world. As a Sustainable Mobility Solutions Provider, Kia is spearheading the popularization of electrified and battery electric vehicles and developing a growing range of mobility services, encouraging people around the world to explore the best ways of getting around.
Kia Europe, headquartered in Frankfurt, Germany, employs in total over 5,500 employees from 37 nationalities in 39 markets across Europe and the Caucasus. It also oversees European production at the company's state-of-the-art facility in Zilina, Slovakia.
Kia's innovative products continue to attract great acclaim, notably the EV6 battery electric vehicle becoming the first Korean car to be named European Car of the Year in 2022.
Further information can be found here:www.press.kia.com
About the Red Dot Design Award
The Red Dot Design Award is an international design competition that takes place every year. It describes itself as "one of the most sought-after marks of quality for good design." Participants can enter their designs in three different categories: Product Design, Brands & Communication Design and Design Concept. The winners of each category are chosen by an international team of jurors who are experts in their respective fields. Over the course of several days, the jurors assess each submission based on their design quality and degree of innovation. This year's winners will be further recognised at the Red Dot Gala award ceremony in the Aalto Theatre and the subsequent Designers' Night in the Red Dot Design Museum in Essen, Germany on June 19.
Om Kia Norge

Kia Norge
Solheimveien 7
1473 Lørenskog
679 26 000
https://www.kia.com/no/
Kia Bil Norge er hovedimportør av Kia til Norge. Vi har dyktige forhandlere i hele landet. Kia Bil Norge er en del av Bertel O. Steen, som er et av Norges største service- og handelsselskap. Den første Kia ble importert av Kia Bil Norge i november 1994. I dag ruller det mer enn 75.000  Kia på norske veier. Service og ettermarked ivaretas av et kompetent og serviceinnstilt forhandlernett.
Kia er et globalt merke med en visjon å skape bærekraftige mobilitetsløsninger for forbrukere og samfunn over hele verden. Kia ble grunnlagt i 1944 og har levert mobilitetsløsninger i 75 år. Med mer enn 52.000 ansatte over hele verden, tilstedeværelse i mer enn 190 markeder og produksjonsanlegg i seks land, selger Kia i dag rundt 3 millioner biler.
Bedriftens slagord, 'Movement that inspires', gjenspeiler Kias forpliktelse til å inspirere kunder med sine produkter og tjenester.