People are travelling more than last year, but less than in 2019
Almost 3.7 million passengers used Avinor's airports in November of this year. This represents an increase of 19 per cent compared with November last year. The number of travellers is 11 per cent lower than it was in November 2019, which was the last regular year before the start of the pandemic.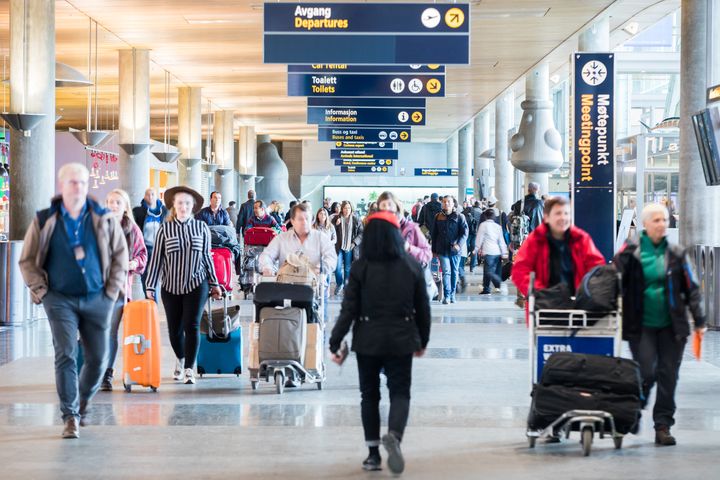 Looking at the figures for this year to date in comparison with 2021, the number of passengers has doubled. However, when comparing with 2019 (January to the end of November), the figure is still some 18 per cent behind 2019 levels.
Aircraft movements
There were 59 921 aircaft movements in November of this year, 2,000 more than in November of last year, representing an increase of 3 per cent. When comparing with November 2019, this is a reduction of 9 per cent.
Further impact from the pandemic
"There are several things that have had an impact. Firstly, European citizens are worried about their private finances due to higher living expense. Secondly, many people still prefer digital meetings rather than in-person meetings. The pandemic has affected people's and companies's travel habits," says Gaute Skallerud Riise, Vice President of Traffic Development at Avinor.
More trips abroad
Trips abroad remain the biggest driver for the overall increase in the number of passengers. In November, 1,243,745 passengers (+51 per cent) flew to and from Avinor's airport and destinations abroad. The equivalent figure for November 2021 was 825,832. This figure still remains some 19 per cent lower than it was in November 2019.
Domestic
2,402,879 people travelled domestically in November of this year. This is 7 per cent more than in 2021, but 7 per cent fewer than in the same month in 2019.
Oslo Airport
Passenger numbers at Oslo Airport increased by 24 per cent in November of this year compared with November last year. Domestic traffic increased by 9 per cent, while international traffic increased by 44 per cent. However, when compared with November 2019 passenger figures still remain 15 per cent lower.
-We are happy that air traffic is approaching normal levels. Oslo Airport is the gateway for tourists to Norway, and the gateway to the world for both Norwegians and Norwegian business. Avinor contributes to stable and efficient air traffic, both for the passengers and the airlines, says Stine Ramstad Westby, airport director at Oslo Airport.
In the Avinor network, the profitable airports subsidise those that are unprofitable. Oslo Airport's contribution to maintaining airports up and down Norway is absolutely crucial in this regard.
Om The Avinor Group

The Avinor Group
Dronning Eufemias gate 6
0191 Oslo
+47 67 03 00 00
https://avinor.no/en/corporate/about-us/the-avinor-group/about-the-company
Avinor is a wholly-owned state limited company under the Norwegian Ministry of Transport and Communications and is responsible for 43 state-owned airports.


Avinor has taken a leading role in reducing climate gas emissions from the aviation industry, including the development of electric aircrafts and supplying sustainable jet-biojetfuel.


Avinor provides safe and efficient travels for around 50 million passengers annualy, half of which travel to and from Oslo Airport.


Over 3000 employees are responsible for planning, developing and operating an efficient airport and air navigation service. Avinor is financed via airport charges and commercial sales.  The air navigation services is organized as ​subsidiary wholly-owned by Avinor. Avinor's headquarter is in Oslo.