Collaborating to establish an innovation centre for zero- and low-emission aviation
The Norwegian Civil Aviation Authority, Avinor, the Federation of Norwegian Industries and SINTEF are joining forces to establish an innovation and testing centre that will seek to promote the development of sustainable aviation and thus reduce emissions from aviation while creating new jobs.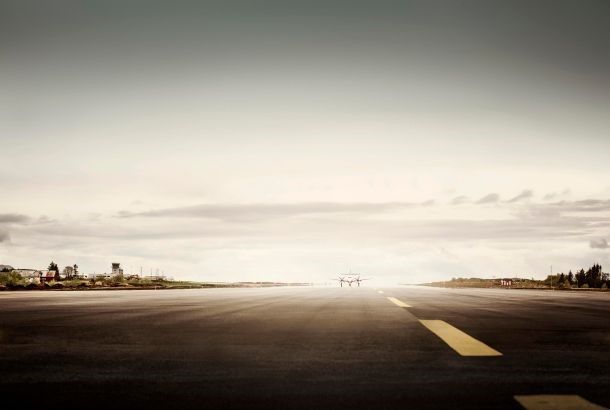 Norway's dependence on aviation, abundant access to renewable electricity, unique short-haul network, active and interested stakeholders and political will to electrify the transport sector, make Norway both well-suited and recognised as an interesting test area and the first market for new sustainable solutions for aviation.
Norway has a clear aim to assume a position at the cutting edge of regional zero- and low-emission aviation development, and this centre for innovation will play a key role in this work. The parties are aiming to launch the centre quickly with operations commencing before the end of 2021. Initially, the centre will be organised on a virtual basis and will embed national coordination and international stakeholders into its work.
The Norwegian government's Climate Plan 2021-2030 expresses a clear ambition that the country becomes an arena for testing and development of zero- and low-emission aircraft. The plan also proposes to use existing policy instruments to expedite the development and roll-out of technology that reduces emissions, and to offer stimuli to accelerate the adoption of zero- and low-emission technology. The government will subsequently stipulate further requirements in this regard once the technology reaches maturity. There are already several teams in Norway involved in the electrification of aircraft, and this new centre will serve as a reinforcement of the work that has been ongoing for some years already.
Aiming to position Norway as an innovation hub
The innovation centre will provide an ecosystem where infrastructure, energy carriers, dedicated airspace and a regulatory testing regime are all in place. It will enable international and national innovators in different developmental phases to be more effective. This ecosystem will serve as a hub bringing together specialist expertise from different sectors. This will make it possible for stakeholders to build a global network for collaboration on zero- and low-emission regional aviation.
Regulatory 'sandbox'
A regulatory 'sandbox' will be established, facilitating testing of new technology in a suitable environment where there is emphasis on broad learning. Efforts will be actively made to identify areas where change is necessary in aviation regulations and standards, and these will be raised in appropriate forums.
The Norwegian Civil Aviation Authority will play an essential role in this process as a governing body in the sector and will help to facilitate an appropriate framework for testing and development, while also offering general guidance and contributing to safety work. The partnership between the Norwegian Civil Aviation Authority and the European Aviation Safety Agency (EASA) can also contribute in areas such as certification, impact assessments and regulatory development.
'We are delighted to see the tangible fruits of our long-term work. We want to facilitate speedier innovation, and want to ensure that the regulations and frameworks are able to keep up with technological developments. Together with our partners, we hope to see the centre become an open and inclusive hub for development, testing, and verification of new technologies, where we maintain an international perspective,' says Lars Kobberstad, Director General of Civil Aviation.
Technological development
The centre will facilitate demonstrations and concept testing, which will involve commercial trials of technology, aircraft and new energy carriers. Avinor will provide ground infrastructure while also ensuring that airspace is available for testing and trials.
'The Norwegian aviation industry's goal is to be fossil-free by 2050. At Avinor, we have been working on climate initiatives for the aviation sector for a number of years, and as part of this partnership we are specifically responsible for ensuring that all necessary infrastructure is in place. We look forward to testing new technologies in an operational environment, and to ensuring that Avinor is in the best way possible able to facilitate zero- and low-emission solutions for the aviation industry,' says Abraham Foss, CEO of Avinor.
The innovation centre will also serve as a resource centre for researchers and will assist in coordinating and guiding international and national research needs.
SINTEF's ambition is to create sustainable solutions that realise a necessary transition in the transportation sector. SINTEF recognises the importance of technological change and testing in order to achieve the goals set relating to green aviation.
'Sustainable transport solutions are at the very heart of the UN's Sustainable Development Goals. It is more difficult to reduce emissions from aviation than it is in other sectors. As a research institution, we see the potential to generate value, competitiveness and sustainable solutions for society that can serve not only Norway but the world as a whole,' says Alexandra Bech Gjørv, President and CEO of SINTEF.
Creating jobs and value
The Federation of Norwegian Industries will be helping to ensure that technological developments help to support the green transition while ensuring that industry is involved and ensuring that value is created for the economy.
'The work we are facing is exciting. It is important that we succeed in this technological development in Norway, and it is essential that industrial businesses - who are already at the cutting edge of technology - are able to join this venture. This has the potential to create a significant number of jobs and can bring value to both the regional, national and international economy, as well as boosting exports of key technology. This will definitely provide interesting opportunities for the stakeholders involved,' says Stein Lier-Hansen, the CEO of the Federation of Norwegian Industries.
Kontakter
Press service for journalists
We do not answer inquiries between 2100 and 0630 unless there is a critical incident. For info regarding flights - see avinor.no and choose airport.

Tel:
+47 918 15 614
presse@avinor.no
Om The Avinor Group

The Avinor Group
Dronning Eufemias gate 6
0191 Oslo
+47 67 03 00 00
https://avinor.no/en/corporate/about-us/the-avinor-group/about-the-company
Avinor is a wholly-owned state limited company under the Norwegian Ministry of Transport and Communications and is responsible for 44 state-owned airports.


Avinor has taken a leading role in reducing climate gas emissions from the aviation industry, including the development of electric aircrafts and supplying sustainable jet-biojetfuel.


Avinor provides safe and efficient travels for around 50 million passengers annually, half of which travel to and from Oslo Airport.


Over 3000 employees are responsible for planning, developing and operating an efficient airport and air navigation service. Avinor is financed via airport charges and commercial sales.  The air navigation services is organized as ​subsidiary wholly-owned by Avinor. Avinor's headquarter is in Oslo.