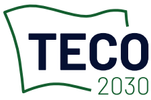 TECO 2030 to present its vision for emissions-free shipping at the Euronext ESG Summit
(Lysaker, June 7th 2021) TECO 2030 ASA (OSE: TECO) is one of just three listed companies that have been invited to give presentations at the Euronext ESG Summit, 'Financing the Blue and Green Economy', on 8-9 June.
TECO 2030's presentation will take place on 9 June and will be given by the company's CEO and founder, Tore Enger.
"I am both very honoured and very humbled to have been invited to participate as a speaker at this event, and I am looking forward to presenting our vision for an emissions-free ocean space to all the participants," says Enger.
In his presentation, Enger will focus on how new technology, such as hydrogen fuel cells, can help decarbonise the maritime industry to enable it to reach the International Maritime Organization's goal of reducing CO2 emissions from international shipping by 40% by 2030.
The Euronext ESG Summit aims to promote discussion on the acceleration of economic recovery and contribute to the stimulation of sustainable investments. Other speakers at the event include Norway's prime minister Erna Solberg, Portugal's prime minister António Costa and António Guterres, secretary general of the United Nations.
The Euronext ESG Summit will be a virtual event, and participation is free of charge. For more information about it, please visit https://euronextesgsummit.eu/.
About TECO 2030 ASA
TECO 2030 (OSE-Ticker: TECO) tackles one of the biggest environmental challenges of our time: How to combine continued economic growth with reduced emissions? By developing hydrogen-based fuel cells, TECO 2030 enables ships and other heavy-duty applications to become emissions-free. The company also delivers other solutions to help the maritime industry reduce its environmental footprints.
Subscribe to our company announcements
Keep up to date with our company announcements by subscribing.
Visit our pressroom and see more company announcements from us.
Our pressroom