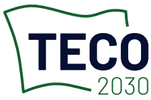 (Lysaker, Norway, May 18th, 2021): TECO 2030 ASA (OSE-Ticker: TECO) has today released its Sustainability Report 2020.
This is TECO 2030's first sustainability report and covers the reporting period 1st January to 31st December 2020. The report is inspired by the WEF IBC common metrics, the GRI Standards and the Euronext guidance on ESG reporting of January 2020. We intend to continue to communicate our sustainability performance annually, with implementing defined sustainability measures. We aim to be transparent about our operations and we will therefore further develop our reporting by including additional disclosures, such as climate data.
The ESG report can be found on the company's website: https://teco2030.no/wp-content/uploads/2021/05/TECO-2030-Sustainability-Report-2020.pdf
About TECO 2030 ASA
TECO 2030 (OSE: TECO-ME) tackles one of the biggest environmental challenges of our time: How to combine growing global shipping volumes with reduced emissions. The shipping industry can move to zero emissions by implementing new technologies, with hydrogen-based fuel cells as the ultimate solution. TECO 2030 – powering the maritime industry's transition to renewable energy.
Subscribe to our company announcements
Keep up to date with our company announcements by subscribing.
Visit our pressroom and see more company announcements from us.
Our pressroom